HUNTER ANDREW PENCE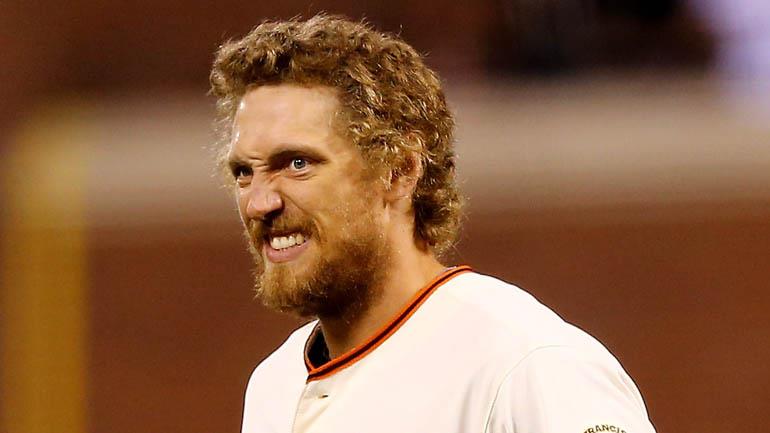 Nickname:
N/A
Position:
OF
Home:
N/A
Team:
RANGERS
Height:
6' 4"
Bats:
R
Weight:
220
Throws:
R
DOB:
4/13/1983
Agent:
Rick Thurman
Uniform #:
8
Birth City:
Arlington, TX
Draft:
Astros #2 - 2004 - Out of Univ. of Texas-Arlington
| YR | LEA | TEAM | SAL(K) | G | AB | R | H | 2B | 3B | HR | RBI | SB | CS | BB | SO | OBP | SLG | AVG |
| --- | --- | --- | --- | --- | --- | --- | --- | --- | --- | --- | --- | --- | --- | --- | --- | --- | --- | --- |
| 2004 | NYP | TRI-CITY | | 51 | 199 | 36 | 59 | 18 | 1 | 8 | 37 | 3 | | 23 | 30 | | | .296 |
| 2005 | SAL | LEXINGTON | | 80 | 302 | 59 | 102 | 14 | 3 | 25 | 60 | 8 | | 38 | 53 | | | .338 |
| 2005 | CAR | SALEM | | 41 | 151 | 24 | 47 | 8 | 1 | 6 | 30 | 1 | | 18 | 37 | | | .305 |
| 2006 | TL | CORPUS CHRISTI | | 136 | 523 | 97 | 148 | 31 | 8 | 28 | 95 | 17 | 4 | 60 | 109 | | .533 | .283 |
| 2007 | PCL | ROUND ROCK | | 25 | 95 | 17 | 31 | 11 | 1 | 3 | 21 | 2 | 0 | 10 | 15 | .387 | .558 | .326 |
| 2007 | NL | ASTROS | $380.00 | 108 | 456 | 57 | 147 | 30 | 9 | 17 | 69 | 11 | 5 | 26 | 95 | .360 | .539 | .322 |
| 2008 | NL | ASTROS | $396.00 | 157 | 595 | 78 | 160 | 34 | 4 | 25 | 83 | 11 | 10 | 40 | 124 | .318 | .466 | .269 |
| 2009 | NL | ASTROS | $439.00 | 159 | 585 | 76 | 165 | 26 | 5 | 25 | 72 | 14 | 11 | 58 | 109 | .346 | .472 | .282 |
| 2010 | NL | ASTROS | $3,500.00 | 156 | 614 | 93 | 173 | 29 | 3 | 25 | 91 | 18 | 9 | 41 | 105 | .325 | .461 | .282 |
| 2011 | NL | ASTROS | $6,900.00 | 100 | 399 | 49 | 123 | 26 | 3 | 11 | 62 | 7 | 1 | 30 | 86 | .356 | .471 | .308 |
| 2011 | NL | PHILLIES | | 54 | 207 | 35 | 67 | 12 | 2 | 11 | 35 | 1 | 1 | 26 | 38 | .394 | .560 | .324 |
| 2012 | NL | PHILLIES | $10,400.00 | 101 | 398 | 59 | 108 | 15 | 2 | 17 | 59 | 4 | 2 | 37 | 85 | .336 | .447 | .271 |
| 2012 | NL | GIANTS | | 59 | 219 | 28 | 48 | 11 | 2 | 7 | 45 | 1 | 0 | 19 | 60 | .287 | .384 | .219 |
| 2013 | NL | GIANTS | $13,800.00 | 162 | 629 | 91 | 178 | 35 | 5 | 27 | 99 | 22 | 3 | 52 | 115 | .339 | .483 | .283 |
| 2014 | NL | GIANTS | $15,200.00 | 162 | 650 | 106 | 180 | 29 | 10 | 20 | 74 | 13 | 6 | 52 | 130 | .332 | .445 | .277 |
| 2015 | PCL | SACRAMENTO | | 5 | 17 | 6 | 5 | 0 | 0 | 2 | 5 | 0 | 0 | 2 | 4 | .350 | .647 | .294 |
| 2015 | NL | GIANTS | $18,700.00 | 52 | 207 | 30 | 57 | 13 | 1 | 9 | 40 | 4 | 1 | 16 | 48 | .327 | .478 | .275 |
| 2016 | NL | GIANTS | $18,500.00 | 106 | 395 | 58 | 114 | 23 | 1 | 13 | 57 | 1 | 1 | 43 | 95 | .357 | .451 | .289 |
| 2016 | PCL | SACRAMENTO | | 7 | 24 | 6 | 10 | 2 | 0 | 3 | 7 | 0 | 0 | 0 | 3 | .440 | .875 | .417 |
| 2017 | CAL | SAN JOSE | | 3 | 10 | 3 | 3 | 0 | 0 | 0 | 0 | 0 | 0 | 2 | 2 | .417 | .300 | .300 |
| 2017 | NL | GIANTS | $18,700.00 | 134 | 493 | 55 | 128 | 13 | 5 | 13 | 67 | 2 | 3 | 40 | 102 | .315 | .385 | .260 |
| 2018 | PCL | SACRAMENTO | | 25 | 103 | 11 | 31 | 4 | 0 | 1 | 13 | 0 | 0 | 6 | 24 | .342 | .369 | .301 |
| 2018 | NL | GIANTS | $18,500.00 | 97 | 235 | 19 | 53 | 11 | 1 | 4 | 24 | 5 | 1 | 11 | 59 | .258 | .332 | .226 |
Personal
Pence is a tall, thin baseball player. He gives total effort all the time, doing everything he can to win. He has outstanding makeup. He plays hard, but also under control.

He genuinely cares about other people. He is the type of guy people want on their team.

BROTHER PLAYED BALL TOO

Hunter's older brother, Howie, pitched in the Padres' organization for three years, reaching high Class A in 2005. The brothers used to play for countless hours together in the backyard. Hunter used things like broomstick bats and Whiffleballs, for example, in building his skills with his brother.

"Just to keep him interested," Howard said. "He'd quit if he didn't win, so I let him get ahead, and beat him at the end."

That worked until Hunter turned 13.

"I'd try to beat him and couldn't," Howard said. "He started getting bigger and faster. I'd let him get a lead, 9-5, and come back to beat him 10-9. When he was 14, I couldn't do that."

In 2007, Howard was released in spring training. He played Independent League ball for a short time. He now works in the oil industry with his father, Howard Sr.

Hunter says that his brother Howard, a diehard baseball lifer, is where he gets his strength and inspiration for the game from.

"He's my hero," Hunter Pence said. "I looked up to him so much that his love for baseball made me love baseball."

That's no exaggeration. In the Pence household, Howard, three and a half years older than Hunter, was the superstar. He had the dazzling right arm that was going to carry him to the big leagues. Hunter was the smaller kid brother who wanted to do everything his brother did. Howard played baseball, so Hunter did, too.

"He wasn't the big brother who would push me aside and say, 'Oh my little brother's just a tag-along,'" Hunter said. "He was proud of me. He'd say, 'Here's my little brother, watch what he can do.'" (Alyson Footer-MLB.com-2/28/08)

A native of Arlington, Texas, and a product of Arlington High School, he was went to the University of Texas-Arlington.

Hunter batted .395 (75-for-190) with eight doubles, five triples, eight home runs, and 35 RBIs. He had a .616 slugging percentage and was 10-for-10 in stolen base attempts.

In 2004, he won the Southland Conference batting title and player-of-the-year award.

He is a very competitive player with an infectious makeup. Hunter is high-energy and has an all-out approach. He's very aggressive and fun to watch. Fans love his energy, enthusiasm, and hard-nosed style of play.

In 2005, Baseball America rated Pence as 10th-best prospect in the Astros organization.

Before 2006 spring camps opened, the magazine had Hunter rated as 6th-best prospect in the Houston farm system. Then, in the spring of 2007, Baseball America had Pence as the #1 prospect in the Astros organization.

November 1, 2006: Pence was sent home from the Arizona Fall League. This followed his arrest on October 29 for charges of driving under the influence of alcohol.

Pence, 23 years old, was arrested at 3:32 a.m. on October 29, in Scottsdale, Arizona, while driving erratically, according to court records. He was booked and released with a promise to appear at his arraignment.

He was charged with a Class 1 misdemeanor, punishable by a maximum of six months in jail, a $2,500 fine, five years probation, and a minimum of 10 days in jail, nine of which can be suspended if an alcohol program is taken.

Pence, playing for the Mesa Solar Sox, was hitting .339 with three homers and 11 RBIs through 15 games.

"I definitely learned from it," Pence said. "I got caught in a tough situation. I didn't get a DUI, and wasn't charged with that, because my blood-alcohol (level) was under the legal limit. I take full responsibility. I was driving too late at night and was on my cell phone not paying attention."

Pence's take is that the whole thing was a big misunderstanding. "I am guilty of being careless, not of drunken driving," he said. "I was going 32 in a 45 (mph) zone. I'm not ashamed of myself by any means. I learned from it and am moving on."

When Pence's blood-alcohol level was found to be below the legal limit, so the charge was thrown out. Police had made three other charges, and those were combined into a single lesser charge of reckless driving in a plea agreement. (Steve Hunt-Baseball America-5/02/07)

Hunter is one of the first guys at the ballpark and one of the last to leave. He is a tremendous young man to be around.

April 27, 2007: Hunter admits he teared up a bit when Round Rock manager Jackie Moore told him he was being called up to the Major Leagues.

"He shook my hand and I just froze," Pence recalled. "Every memory of all the hard work and all the baseball I've played just went through my head, and all the dreams I had as a kid. I'm just happy to be here, and I want to help the ballclub win.

"I'm going to play energetic and I'm excited. I play with a lot of emotion. I don't stress out about any of this. I'm not going to get worried. If they get me out, they get me out. I'm going to get them next time."

On April 28, 2007, Hunter started in center field and went 1-for-3, a single as the #6 hitter in the Astros' lineup. He was assigned uniform #9, and was pleased. "I didn't have a say in it, but I like it because I wore number 9 in college," he said. "I think I wore 9 in [short-season Class A] Tri-City [in 2004]. I can't complain about that. It's a lot better than 84."

During the 2007 season, Astros veteran Craig Biggio took Pence under his wing. "He's as classy a guy as you get," Hunter said. "I've been fortunate that he's been willing to offer advice and help me out, especially on the road. After games, we'll talk about situations. He's really kind of opened his arms and helped me out, and I really appreciate it."

"That's just part of being a veteran," said Biggio. "The quicker you learn things at this level, the better you will be. I've seen a lot of guys here over the years and he's been great. He's quiet and plays the game the right way. You tell him something once and you don't have to tell him again."

During offseason workouts, Hunter gets really good batting practice from his friend, Chris Gay, a former pitching farmhand in the White Sox system. Gay now runs the batting facility where Pence works out during the offseason. But more importantly, he helps Pence keep his swing sharp by throwing him batting practice at a speed just under what Pence would see on the Major League level.

"He throws 100 percent from 45 feet, and he can still throw 80 mph," Pence said. "It's like facing a really nasty lefty. He'll throw sliders, changeups, fastballs. We'll go to work. He's awesome. It keeps me sharp during the offseason. I owe him a lot." (Alyson Footer-MLB.com-6/24/07)

Pence is in great shape because he works so hard. He only has 2 to 3 percent body fat. (April 2008)

May 21, 2008: Before that night's game, Hunter Pence received a text message from his brother, Howard, that said, "Hit one for the new H.P."

Howard's wife, Allison, had just delivered the couple's first child, a daughter they named Hayley. Howard sent Hunter a picture of the newborn along with that text message, and a couple of hours later, an elated uncle Hunter adhered to his brother's instructions.

"It's one of those things that hopefully when she gets a little older and we can talk to her, it's something that she can feel is special," Hunter said.

In 2008, Pence was reading a book on learning to master the game of chess. He sharpens his skills online and sometimes even challenges his teammates.

In his spare time, he also likes to read books, go to nice restaurants, and hang out with his family.

Hunter's favorites:

Actor: Russell Crowe. Movie: Cinderella Man. TV Show: the History Channel; also liked 24. Music: Rock. Food: Steak. Person he'd like to meet: Albert Einstein. Three people he'd like to invite to dinner: Tiger Woods, President Obama, and Pence's girlfriend, Terrie. Two people he'd like to meet: Socrates and Jesus Christ.

Hunter loves his eggs and coffee. "At breakfast, my order is always three eggs over medium, hash browns, sausage, bacon, two biscuits, and three to four cups of coffee," Pence says. "I'll usually have at least four cups before I get to the park, and at least another two once I get there."

Pence really got he and his Giants teammates fired up before they beat the Reds in Game 3 of the 2012 National League Division Series, Pence's fiery clubhouse speech, followed by a team-wide rugby-like scrum in the dugout, would be a mere footnote to a series that ended with a big, dull thud.

Instead, his pregame rant—"Look into each other eyes! Play for each other! Win each moment! Win each inning!"—has not only become the Giants' rallying cry. It's also taken on a life of its own, and there are several people in the Giants' clubhouse who truly feel it made the difference between advancing to the National League Championship Series and heading home to go fishing.

Pence talked about never surrendering. And he talked about affection.

"He was saying, 'I love you guys. I truly love every one of you and I want to play another day with you,'" pitcher Jeremy Affeldt said. "That kind of stuff is not said by a lot of guys. They're not that comfortable with that in the clubhouse."

Pence also came up with some new words to fire up the troops.

"He starts some 'Hoo hoo hoo' chant and we're like, 'Yeah, it sounds good, too,'" Affeldt said. "We can probably just stick with that."

Added Matt Cain: "It kind of takes you back to high school. We're just having fun. It's great. It just kind of gets everyone together."

"Big. Huge," Angel Pagan said of Pence's vocal contributions. "Encouraging, very motivating. We went out there and we felt like warriors, trying to hunt people. I don't know how to explain it. There so much energy and so important for us to gather us together, for us to come through. These guys have been so special to me. To accomplish this, I can't explain. It's in my heart and I'm very happy for them."

You will never hear a negative comment out of Hunter's mouth. And that is really tough in a performance- and failure-based sport.

His Giants teammates nicknamed Hunter: "Full Throttle." But with his intense stare that looks like he could bore a hole through a skull, Pence said, "I was called 'Captain Intensity' in high school. They were making fun of me."

For Pence, playing baseball is a privilege that's meant to be savored.

Hunter certainly has more than his share of quirks. Lots of players wear high socks, but the expanse of hosiery and his lanky build give him a unique look. He doesn't throw a ball as much as he slings it. And his impetuous swing won't serve as the basis for any instructional videos.

Pence is one of the very first baseball players to Twitter. But that social media foray did not exactly receive positive reviews from teammates.

"It was definitely taboo," Pence said. "It was frowned upon. I got made fun of."

A loyal autograph signer since his early days as a Minor Leaguer, Pence viewed social media as another way to avail himself to the fans in a positive manner. Interaction didn't scare him, even with the drawbacks. Not everyone is nice on Twitter, obviously. Anonymity can be intoxicating. People say things they never would in a face-to-face conversation, especially given the knee-jerk reactive nature of social media. You think it, and then you type it. When used improperly, it's bullying without consequence.

Yet despite the potential pitfalls, Pence sees Twitter as good overruling the bad.

"As you see now, it's everywhere," he said. "Most everyone does it. The game today has evolved. There's a lot more interaction, there's a lot more access to us. I felt like it was a good way to be able to say something, to be able to hear from fans and respond. You want to give back, because we get so much from the fans. That was kind of the opening idea behind it."

In the four years since Pence joined Twitter, it's not a question of who's on Twitter. It's easier to count who is not.

Loosely calculated, the number of Major League players on Twitter is in the neighborhood of 400-500. Considering 750 players comprise the 25-man rosters of the 30 teams, clearly the number of players who use social media far outweighs those who have declined.

How Twitter is utilized depends on the player. Some accounts are operated through a player's personal public relations representative as a way generate buzz about community involvement. Others have accounts but actually tweet very infrequently, preferring instead to follow friends and teammates as a silent observer.

Pence has the "X factor"—that quality in big league players, or any guy trying to make it to the top. But rarely is that "thing" on full display in any one baseball player. Pence is the exception. If you're searching for that "it," Pence is a gold mine. At 6-foot-4 and 220 pounds, the man is practically made of the stuff. But let's be clear: Don't call that "it" intensity or hustle, drive or fire. That's not what Pence wants.

"I wouldn't want to call it intensity or fire, but more passion," Pence said. "I love the game. I love to play. I'm grateful. I'm the one who is blessed to be able to play here every day, and it's truly an honor."

Passion, eh, Hunter? That'll work. It's a word that sums up Pence perfectly. Just ask the people of Houston, who got behind the man who kept their team afloat with that passion. Talk to the Phillies' faithful, for whom the 2012 Trade Deadline shipping of Pence to the West Coast proved to be an arrow to the heart of the City of Brotherly Love.

In 2012, Pence was the driving force behind the Giants' National League Division Series rally from a 2-0 series deficit, but not in the way you'd expect. Sure, Pence's bat was loud, but his mouth was louder. Before games, Pence was often in the center of a huddle more common on the gridiron than a dugout. Those speeches earned him the nickname "Reverend Pence," and more importantly, a World Series ring.

"There's a freeing aspect to [saying], 'I don't care about anything but making a decision to give my all for you guys, because I love playing with you guys,' instead of 'I'm going to be the guy where I'm going to step up and put all this pressure on myself,'" Pence said. "[Instead, I said] 'I'm going to give it my all because I love playing with you guys and I love the game.'

"We kept it simple; the bullpen was outstanding, the pitching was great; timely hitting. That's what I think was the most important thing. It wasn't the speeches, it was the action," Pence said humbly.

"The totality of the World Series, the embodiment of the camaraderie with your teammates, the [fact that] the city is following you, the fans support you, the interaction …" Pence said. "It's pretty special to be part of something [like a World Series team]. We talk about it from time to time. Being a player and playing long and hard with all of the hard work that goes in, to be rewarded with an opportunity in the playoffs and have success in the playoffs, there's nothing like it.

"There's definitely treasures embedded in all sorts of things in life. It doesn't have to be a World Series championship. That's your wildest dream. I used to think that was the only way to be successful. I disagree with that now. I think that giving your all is being successful." (Zahneis - mlb.com - 6/18/13)

Hunter's favorite non-baseball teams: the Houston Texans and Philadelphia Flyers.

Pence's zeal dates back to his teenage years at Arlington High School in Texas. He worked extensively with Don Werner, a former Major League catcher, who recognized Pence's desire immediately.

"The first thing I noticed about him was that he loved to play the game. That caught my attention," Werner said. "Hunter had no problem with the hard-work part, that's for sure."

Werner recalled suspending an automobile tire next to the practice field he, Pence and other youths used. Swinging at the tire would strengthen a hitter's hands and develop a more aggressive swing. Werner said that when he drove into the parking lot adjacent to the field and exited his car, he already could hear the "whack! whack!" of somebody smacking the tire. Werner didn't have to guess which of his pupils was sharpening his swing.

"I always thought, 'Well, Hunter's here,'" Werner said.

Whenever Pence takes the field, he is one of the most energetic and aggressive players on the diamond. Whether he's running into walls, making sliding grabs in the outfield or swiping bases, Pence's throwback approach has made him a fan favorite since the Giants acquired him from the Phillies.

"I think there's all sorts of personalities," Pence said. "I study myself, and my goal is to perform the best I can and do everything I can to win. I feel at my best with high energy, amped up a bit, and that's just where I feel I perform better. It's something I have to create and come with every day. There are a lot of players that have to be calm. Baseball is a relaxed sport. It's just one of those things where you have to know yourself." (Owens - mlb.com - 7/09/13)

Hunter rides a scooter to the ball park in San Francisco, nearly everyday.

In high school his nickname was "Captain Intensity." He said he would drink an energy drink "exenadrine," which is now illegal. He would run around like a wild man on the field after that.

In 2010, Hunter dated former Houston Texans cheerleader Lindsay Slott. In 2011, Pence dated May 2007 Playboy Playmate Shannon James; they met at a Cole Hamels charity event.

August 2013: Pence, an inspirational presence since he joined the Giants in a July 2012 trade, was named the Giants' recipient of the Heart and Hustle Award.

The Major League Baseball Players Alumni Association selects a nominee from each team and ultimately chooses a winner from among the 30 candidates. The award recognizes a player's passion for the game and the way he embodies its values and tradition.

Hunter Pence has been called "The Reverend," "Twitchy," "Bam Bam," "The Natural," and even "Captain Underpants." He throws funny, he hits funny, and he runs funny. His mechanics are the last thing you'd want your Little Leaguer to emulate. In nearly every aspect he is unconventional, perhaps the most awkward man in baseball.

In 2013, the Giants named Pence their Willie Mac Award winner at the end of the season. The award, named for Giants legend Willie McCovey, is given annually to the club's most inspirational player. The winner is primarily determined by a vote among players. Coaches, members of the athletic training staff, fans and McCovey himself also cast ballots.

"To be voted in by your teammates is the ultimate honor as a player," Pence said. "I think the smile on my face shows what's going on inside."

During his acceptance speech, Pence cited the ardor he reserves for his teammates. "Buster, I know you don't like when I say I love you," Pence began one sentence, prompting laughter from the AT&T Park audience.

Pence also poked fun at his quirky mannerisms. "God, you didn't give me much grace or real style," he said, "but you gave me a chance."

Giants manager Bruce Bochy said of Pence: "He's really amazing. I don't know of another player I've ever had who played every game—not just played, but the way he plays and the intensity that he plays with. He's so popular in that clubhouse. He's full of energy. He's a baseball player. He just loves the game. The passion's there every day. He doesn't back off."

January 2014: Hunter Pence's offseason training included pushing cars up mountains.

Hunter went in to see Giants manager Bruce Bochy, which qualifies as fairly significant news around that baseball team. Pence is about as low maintenance as a player can be. His deal is simple. He plays hard. He plays everyday. Simple, right?

The Giants have played 268 games since Pence arrived almost in 2012 years ago (as of May 23, 2014), and Pence has played in all of them. That's all he asks of his manager.

No player in baseball works harder or cares more. He has been that way since the Astros summoned him to the big leagues in 2007. That was a largely veteran team, and those veterans were amused by his nearly fanatical approach. Brad Ausmus and Craig Biggio still remember him diving for warmup throws between innings.

They figured he would calm down because, hey, baseball is a marathon. Maybe that's the beauty of Pence. When he turned 31 and had played 1,103 big league games, he was a two-time All-Star who has been traded twice and won a championship as a member of the 2012 Giants.

Yet Pence cares every bit as much now as he did in those first days with the Astros. He's relentless in his work ethic, meticulous with nutrition, preparation, etc. To put it another way, he's absolutely what we'd like every professional athlete to be. And, yeah, if you see bags of kale chips in the Giants clubhouse, they're probably Hunter's.

Now about that energy and drive. What's it worth to this first-place team? It may be hard for those of us on the outside to measure it, but the Giants feed off it, appreciate it, admire it.

Anyway, back to the conversation Pence had with his skipper the other day. Pence asked why he wasn't in the lineup. He clearly wasn't happy about this. Turns out, the whole thing had been a miscommunication, but it was one of those conversations that reminded Bochy why he loves this guy.

"You're playing, Hunter," Bochy told him. "You're always going to be playing." (Justice - mlb.com - 5/22/14)

Giants manager Bruce Bochy first noticed Pence when he was the National League manager at the 2011 All-Star Game. Because Pence is tall and gangly, Bochy assumed this was a skinny kid. Yet in the N.L. clubhouse, he noticed two things. First, he saw Pence without a shirt and saw that he was absolutely ripped, that he looked strong as an ox.

Bochy was impressed by something else about Pence. That was his personality. That is, his excitement, personality, joy and interaction with teammates. He was competitive, too. If it was an All-Star Game, Pence wanted to win it. That's why they're keeping score, right?

Pence has been everything Bochy hoped he'd be. His pre-game speeches during the 2012 postseason may have helped light a fire under the Giants, and he could have passed for the happiest guy on earth as the World Series trophy was hoisted that fall.

Late in 2013, Pence was a few weeks away from free agency, and as it became clear he'd be a hot commodity on the market, he had other ideas.

He told Bochy that he did not want to be a free agent. He told him he was right where he wanted to be, that he liked his teammates and his manager, that he liked everything about playing for the Giants, especially those huge crowds and the incredible atmosphere at AT&T Park.

Pence signed a five-year, $90-million extension a couple of weeks later. Sure, he almost certainly could have gotten more if he'd tested the waters of free agency. On the other hand, he was mature enough to know that the Giants offered him everything he ever dreamed of having in baseball, and he wanted to stay.

Every once in awhile, a guy comes along who gets it, a guy who is almost too good to be true. That's how the Giants feel about Hunter Pence. (Justice - mlb.com - 5/22/14)

May 25, 2014: Pence's beloved scooter was stolen as he dined at a restaurant on the Embarcardero, San Francisco's waterfront thoroughfare. Pence obtained the scooter a few weeks after he joined the Giants at the 2012 Trade Deadline and has used it since.

"I can't fathom driving," Pence said.

Thus, Pence would like his scooter back. His reward for information leading to the vehicle's return is an autographed bobblehead doll in his image, which, of course, captured him riding a scooter.

May 28, 2014: Hunter's now-famous stolen scooter was returned. Pence said the customized motor scooter that he rides a few blocks to every home game was returned to police at AT&T Park during the Giants' 5-0 win over the Chicago Cubs. He said reliever Juan Gutierrez informed him of the scooter's safe return when he came back to the dugout between innings.

"He was like, 'They got your scooter!'" Pence said.

Pence said he doesn't know who returned the scooter. And because he never filed a criminal complaint, he said police will not pursue the alleged thief.

Hunter won an award that sounded as if it were named for him. Pence was named as the Giants' recipient of the Heart and Hustle Award, given annually to honor players who demonstrate passion for the game and best embody baseball's values, spirit and tradition. The Heart and Hustle Award is also the only award in Major League Baseball that is voted on by former players. (7/22/14)

SIGNS IN THE STANDS

August 8, 2014: "Hunter Pence eats kale so you don't have to."

"Hunter Pence always makes sure that his carry-on bags fit in the overhead compartment."

Of the myriad signs and memes percolating on San Francisco's 10-game road trip in August 2014, Pence prefers those two.

When San Francisco visited the Mets, New York fans greeted Pence with a few signs poking fun at the Giants outfielder. The playful heckling caught on and carried over to the team's next trip to Milwaukee, as Brewers fans came to the ballpark with similar signs.

Pence embraced the phenomenon, popular on social media with the hashtag #HunterPenceSigns. Before the Giants opened up a three-game series with the Royals, he joked with Kansas City fans, telling them they should have brought signs of their own.

"I do enjoy it. I think it's funny; I like comedy and fans are extremely creative," Pence said. "It's definitely wild, but I'm having fun with it."

He says the memes derive from a photo he posted to Facebook and Twitter of him in a New York City coffee shop prior to the game vs. the Mets, with the caption: "These pretzels are making me thirsty," a quote from the television show "Seinfeld." (Jackson Alexander - MLB.com - 8/8/2014)

Beginning in August 2014, the Hunter Pence sign craze was epidemic in ballparks. Fans were toting humorous, ironic, or enigmatic declarations scrawled on cardboard about their beloved Pence. The fad started in New York during the Giants East Coast road trip.

Pence himself perpetuated the trend by posing with Tim Hudson in the Giants clubhouse before the game against the White Sox. The sign they clutched read, "Hunter Pence plays fantasy football with Tim Hudson!!!" The photo received plenty of exposure on Twitter.

Signs brought by fans included, "Hunter Pence knows Victoria's Secret" and "Hunter Pence gives king size bars for Halloween." Away from AT&T Park, SB Nation tweeted a photo of former Major League slugger Jose Canseco holding a piece of paper reading, "Hunter Pence loves Jose Canseco."

After the 2014 season, Hunter said, "My girlfriend, Alexis (Cozombolidis) was the one who got it started. I'm a big Seinfeld fan, and it started with a picture of me we posted in a New York diner holding a cup of coffee. It wasn't the actual Seinfeld diner, but it reminded me of it, with the famous quote, 'These pretzels are making me thirsty.'

"That night in Queens, some fans made some signs, 'Hunter Pence puts Ketchup on his Hot Dog,' and, 'Hunter Pence eats Pizza With a Fork.' I have a ton of favorites: 'Hunter Pence Picks the Hamburger in the Hot Dog Race.'

Hunter also recognized the signs were in keeping with his personality, saying, "Yeah, because I'm a little bit unorthodox or awkward, or whatever you want to call it. I don't take myself seriously, I joined in."

September 27, 2014: Pence ended his consecutive games starting streak at 331. That was the longest active streak in baseball. Pence took his first day off since September 23, 2012.

Maybe all you need to know about Pence is something that happened early in the 2010 season, when he was with the Astros. He was hitting .214 on May 10 of that year, and it was the first time in his first four big league seasons that he'd struggled. The next night, after he got three hits in a game against the Padres, he was asked he'd done something to rid himself of his slump.

"I read a book on relaxation during the offseason," Pence said. And? "I tried to relax."

And? "I've played this game one way my whole life. I've got to swing hard and play angry. That's what got me here."

To the people who followed the Astros as Pence was establishing himself, that was no surprise. He'd been summoned to the big leagues in 2007 and was an impact player from the beginning. You could write him down for 25 home runs and 30 doubles every season. You could also count on him playing hard every game. He also played with a certain joy and enthusiasm, an attitude that made him a fan favorite from the beginning.

Right there at the start, long before he became something of a cult hero with the Giants, some of his veteran teammates with the Astros—Brad Ausmus, Lance Berkman, Craig Biggio—were struck by this energy.

There was the night he dived for a warmup throw from his center fielder. Yes, right there between innings, he did a headfirst dive for a warmup throw. His teammates cracked up.

Another time, after a bad game, he was visibly upset at the way he was swinging the bat.

"Hey, look," Biggio told him, "don't go home feeling bad. Go in the [batting] cage and take some swings until you feel it click back in."

Around a half-hour later, Pence went back to the clubhouse drenched in sweat and smiling.

"I got it back," he said.

Ausmus rolled his eyes.

"You got it?" Ausmus asked. "Just like that? OK, I went to see two hits tomorrow night."

Pence had three.

Hunter drinks roughly 20 cups of coffee each day, seemingly subsisting on a diet of caffeine and kale.

While Pence sits out of baseball for 6-8 weeks (he suffered a fractured forearm after getting hit by a pitch on March 5, 2015) perhaps the Giants outfielder is looking for a hobby. And perhaps that hobby is a Twitter production of "The Lion King." Which should definitely be a thing.

Pence tweeted out his fantastic rendition of "The Circle of Life," complete with the presenting of Simba.

So which part should he play? While Rafiki is the one who unveils baby Simba to the animal kingdom during the song, as Pence does in his video, Pence's hair and beard are awfully lion mane-ish. Wouldn't he make a great Mufasa, or adult Simba?

Whichever part he'd like, Pence is clearly trying to show the world that he's Broadway material. Either that, or he just started watching Unbreakable Kimmy Schmidt. (Hunter Pence @hunterpence March 6, 2015)

February 14, 2016: This was a special offseason for Hunter Pence, as the Giants outfielder proposed to his now-fiancee Alexis Cozombolidis in November at Walt Disney World. On Valentine's Day, Pence and Cozombolidis joined ESPN's SportsCenter to discuss the festive proposal and their relationship.

Pence knew he wanted to pop the question at some point after the 2015 season. He had the ideal opportunity during the trip to Disney, which helped set the stage for the big moment.

"We got like this perfect three-day experience where I called Disney, and they set up a lot of really nice things for us to just go experience Disney," Pence said. "And who doesn't love Disney movies? It's the happiest place in the world. They choreograph getting a photographer, a filmographer and putting the fireworks behind me. No better way to set off the offseason vacation with getting to propose and holding that secret and doing everything at Disney and sharing it with the family at Thanksgiving."

Pence pops the question

As part of the plan, Disney staged an interview with the couple. When Pence was asked for his best Disney memory, he said it was "right now," then got down on one knee in front of Alexis.

"Alexis, I've loved you from the second that I laid eyes on you," Pence told her. "You have made me such a better man. Literally you're my best friend. You're my soulmate. When we started, I didn't understand the way a relationship really works. Will you take my hand? I promise to always love and be a standup, loyal true man to you, to give you my all."

Before Pence could officially ask Alexis to marry him, she interrupted with an, "Oh my God, yes!" as fireworks went off in the background.

"I was so surprised, oh my gosh," Alexis said on SportsCenter. "I think during the interview before they actually pulled me in, I wasn't even listening to the questions because the lights on the Magic Castle went off and I was like, 'Oh my gosh, does anyone know? Does anyone know this? The lights in the Magic Castle went off.' I was more concerned with that, and I'm pretty sure the guy that was asking questions, asked me the same question twice. I had no idea.

"I was completely caught off guard. Had I known—like we came straight from the park that day, I don't even think we showered. Had I known, I probably would have showered."

"Full day at the park," Pence added. "We just tried to cover it up with some perfume and cologne."

The couple talked about how they met, when Cozombolidis worked for IGN.com, in video games, and Pence came by to promote MLB The Show. She put makeup on him, and the two hit it off. (Andrew Simon - MLB.com - February 14th, 2016)

February 26, 2016: Stephanie Tanner is Hunter Pence's girlfriend in 'Fuller House,' and she jinxes him into a slump. The best part about the "Full House" sequel series that is finally available to stream on Netflix is Giants All-Star outfielder Hunter Pence's cameo as Mr. Baseball.

Basically, Stephanie Tanner is casually dating a couple of guys in the series, but gets serious with Pence in episode 10, "A Giant Leap." The episode starts out with Pence droppin' by the iconic Tanner household for Stephanie's family to ogle him and pepper him with questions about his slump.

We later learn that he and Steph are very much in a Tony Romo-Jessica Simpson situation, in which the fans are blaming Steph for jinxing Pence—he hasn't gotten a hit since they started dating.

When Pence invites Steph, D.J., Kimmy Gibbler and a few others to AT&T Park for a game, Steph sings "Take Me Out to the Ball Game." She gets booed, bursts into tears and breaks up with Pence in the middle of the performance and she subsequently gets tossed out of the game.

For their parts, D.J. ends up on the kiss cam with a new beau, Kimmy gets kicked out for trespassing on the dugout and D.J.'s kid catches the home run that Pence cranks out of the stadium to win the game and break his slump.But the best part of Pence's cameo is when he admits to eating pizza with a fork and whips out the special necklace he wears to prove it:

The cast filmed the scene at AT&T Park during the seventh-inning stretch of a Giants-Dodgers game. The actual game footage shows Clayton Kershaw striking Pence out in multiple games, edited together.

All 13 episodes are available to stream right now. And while the official reviews of the new series are, um, mixed, all we're gonna say is that if there's a "Step by Step" reboot or a "Family Matters" reunion, his phone had better be ringing. (M Bertha - MLB.com - February 26, 2016)

Hunter played all 162 games for the Giants in 2013 and 2014, the first player to not miss a regular-season game for the franchise since Alvin Dark played in all 154 games in 1954, when the Giants were still in New York, playing home games in the Polo Grounds.

Who were Pence favorite players growing up?

"I had several. I liked the fast guys. Rickey Henderson, Kenny Lofton, Devon White. And Jim Thome -- he was the one non-fast guy," Hunter said.

As for players today, but not a teammate, Pence said, "Shoot, there's a lot of really good players. I like [Josh] Donaldson. He's so powerful. He's just such a good hitter. He's got power to all fields. He's got speed. He makes crazy defensive plays."

Asked what's the most annoying question the media asks him, Hunter said, "None of 'em. Every question is important because it's important to that reporter. Really, we're kind of like poets. We just gotta write a story, because you saw what happened. When y'all come in and ask us, we just gotta re-explain something that happened that we can't really explain. So we're just storytellers."

What other interests do you have, Hunter? "I enjoy Harry Potter, card games and all that stuff. Magic gathering, Dungeons & Dragons. I love the imagination. I prefer the Potter movies over the book because most of my reading is self-help stuff, like psychology and philosophy and all that stuff. But we did buy the new book. My favorite movie scene is when Voldemort and Dumbledore battle. I don't remember which one it's in, but that was my favorite scene by far." (Eddie Matz - ESPN - 8/20/2016)

November 2016: Pence married Alexis Cozombolidis.

Jan 3, 2017: Nothing in life is more important than friendship. That's the lesson of hundreds of movies, TV shows, and now, a story over at The Players' Tribune. Mark Melancon and Hunter Pence got to know each other when the two were teammates on the Astros, and when he signed with the Giants in December, Pence was one of the first players to reach out to him.

Of course, Melancon decided to repay this kindness by sharing an amazing story about Pence's experience with hot yoga. Pence accompanied Melancon to a class, and, well, we'll let Melancon tell you what happened: As Giants fans know, Hunter is one of the most intense guys you'll ever meet. He does everything at 110%. Everything. He'll run through a wall if he has to. And he was so pumped for that session. I mean, he was ready to go.

Then they turned up the heat.

"After about five or 10 minutes, I take a peek over at Hunter, and he looks like he's about to die. He's drenched in sweat and just … struggling. But he gives me this look like, It's cool. Everything's O.K. It's just yoga."

Pence made it through the class, but getting out of the parking lot was a different story. We'll leave you with this tidbit:

"Mark, that was the craziest workout ever," Hunter says. "I could barely stand up after that. And get this, on my way home I pulled into a parking lot and I was so out of it that I backed my car into the front bumper of another car. Dude, the bumper actually fell off!" (G Kaneko - MLB.com - Jan 3, 2017)

Feb 3, 2017: Hunter Pence is many things. He's a wonderful Napoleon Dynamite cosplayer (along with his wife, Alexis), the quintessential example of "energetic teammate," a part-time actor on beloved sitcoms, and a "Game of Thrones" fanatic. Despite all these designations, there's one thing he (apparently) is not. You see, it would appear that Pence is not, in fact, the chosen one as he could not unearth Excalibur at the Disney Theme Park, try as he might. It just wasn't meant to be.

But, on the bright side, any day spent at a Disney theme park in a "Hakuna Matata" tee is pretty much perfect, even if you're unable to unearth the giant sword. (A Garro - MLB.com - Feb 3, 2017)

April 2017: Bill Nye The Science Guy (BILL! BILL! BILL!) has a new show on Netflix called "Bill Nye Saves the World." It's a 13-episode affair in which Bill brings in experts and special guests to refute anti-scientific claims and explore problems that affect our everyday lives. One of those special guests was three-time All-Star/player you'd most likely mistake for an actual scientist: Hunter Pence.

Along with making one of his vintage #PenceFaces, the Giants right fielder, keeping it TV casual with some grey sweatpants, hit baseballs into a model of Mars to demonstrate how an asteroid might impact the planet. (Matt Monagan-Cut4-MLB)

Hunter Pence and his wife Alexis were on the #AskGaryVee YouTube show and podcast, where they answered a few questions about life in baseball and revealed a crucial fact about themselves: They are both huge nerds. Now, we say that affectionately.

Alexis comes from a gaming background, and she has her own Twitch channel where she streams twice weekly. According to Hunter, they also make a great Smash Bros. team.

"Alexis is nasty, and [other players] don't even know it. We come in and wreck."

Perhaps in an effort to defeat as many people as possible, Hunter said early in the interview that he was thinking about opening a coffee shop for board games and esports. Both Alexis and Hunter think that esports are the wave of the future and are going to be just as big as baseball in 10 years.

So, does that mean Hunter will be a two-sport star? "I don't know if I'm going to be a professional gamer because they're incredibly talented and on the next level," he said. In that case, we'll be stocking up on Alexis Pence Smash Bros. jerseys immediately. (Kaneko - mlb.com - 5/21/17)

You might be curious what it's like to spend a day with Hunter Pence and his wife, Lexi. You know plenty about Pence on the diamond and all of his antics, but what about the man himself? And what type of hobbies do he and Lexi enjoy in their spare time?

OK, maybe you know a lot about that too -- he and Alexis are devoted Game of Thrones enthusiasts, even putting together episode recaps with members of opposing teams. But what about everything else?

Some important takeaways from their day:1. Hunter starts every day sipping a concoction of apple cider vinegar, lemon, ginger, and water. Sounds ... delicious? 2. Just like you and me, Hunter sometimes runs into difficulty grinding up coffee beans. Spills happen. 3. Their living room contains vintage 1990s video game systems and a "Harry Potter corner." 4. Lexi is very active on social media while at the ballpark watching Hunter and his teammates take on the opposition. (Garro - mlb.com - 9/21/17)

Pence is now part-owner of Coral Sword, a gaming cafe located few miles from downtown Houston intended to bring together people who enjoy board games and video games, specialty coffee, craft beer and tasty food.

Consider it one-stop shopping for anyone who wants to meet friends for both a drink and an ultra-competitive night of gaming. (Alyson Footer - MLB.com -Feb.2018)

Nov 21, 2018: The season of giving and gratitude that begins with Thanksgiving was highlighted Dec. 4, 2018 when the Wender Weis Foundation for Children (WWFC) took over AT&T Park for its ninth annual Holiday Heroes party for underserved children and their families. Hunter Pence, who became one of the San Francisco Bay Area's most popular athletes during his 2012-18 tenure in the Giants' outfield, was on hand with his wife, Alexis, to receive WWFC's Inspiration Award.

The honor is bestowed upon an athlete who has used his or her sports platform to offer philanthropic support to Bay Area youngsters. The Pences have been heavily involved in the No Kid Hungry Foundation, their efforts including designing a spatula that's being sold at a local Williams-Sonoma store to benefit the foundation.

"Alexis and I have felt truly fortunate for the opportunity to give back to youth in the Bay Area," said Pence, who's a free agent. "Holiday Heroes is an amazing event, and we're excited for all the children who will benefit from it." Previous Inspiration Award recipients were Barry Bonds (2017), Jonny Moseley and Natalie Coughlin ('16), Kristi Yamaguchi and Bret Hedican ('15), Brandi Chastain and Brent Jones ('14) and Jennifer and Joe Montana ('13).

Jean Armstrong, vice president of brand marketing at Williams-Sonoma, was honored with WWFC's inaugural Community Philanthropy Award to recognize her ongoing commitment to children in need, especially those faced with hunger. Since 1994, WWFC has focused on improving the lives of underserved children in the Bay Area by supporting programs that boost self-esteem and foster self-confidence through sports, health and education. According to WWFC founder Amy Wender-Hoch, Holiday Heroes has helped the organization donate $2 million to non-profits.

"We create experiences that provide hope, direction and the ability to dream big," Wender-Hoch said.

More than 400 underserved children are expected to participate in the fun at this year's Holiday Heroes party. Activities included arts and crafts, making stuffed bear toys, face painting, cookie decorating, a teen lounge for kids ages 11-17, creating photo trading cards and playing arcade games. Proceeds from Holiday Heroes will benefit Family House Inc., Giants Community Fund, No Kid Hungry, UCSF Benioff Children's Hospital, Warriors Community Foundation, 49ers Foundation, Team IMPACT and Generation Alive. (C Haft - MLB.com - Nov 21, 2018)

Feb 26, 2019: There may not be room on the Rangers' Opening Day roster for both Hunter Pence and Willie Calhoun, but if they are in a heated battle for an outfield roster spot, you can't tell by watching their daily interactions. Calhoun has just about attached himself to Pence, a 12-year veteran who is more than happy to talk baseball with any teammate.


"I am learning from Willie," Pence said. "We are just discussing baseball, talking life, getting to know each other. It has been fun talking with him. We're just discussing thought processes, mentality, life. He is just an awesome kid. Just fun to talk to him, a fun guy to be around."

The two had much to talk about while the Rangers were playing the Indians

. Pence started at designated hitter and Calhoun was on the bench. He was there to replace Pence in the late innings. They spent the time talking baseball, and Calhoun brought up a recurring theme for him this spring. "I was talking to him about approach," Calhoun said. "In the Minor Leagues, I knew I was dominant. I was so confident, I didn't care who was pitching. Get to the big leagues, I'm completely different."

Calhoun said Pence had some advice for him

. "He's like, 'Go out there and relax, bro,'" Calhoun said. "Don't give pitchers credit." Calhoun took over for Pence in the eighth inning and had a single and a double in the Rangers' 11-5 victory.

"I told him I'm going to treat every pitcher like he is a Minor Leaguer and I saw immediate results," Calhoun said

. "I went 2-for-2. No matter if it's [Justin] Verlander on the mound or whoever. I'm not going to put up them up on pedestal." Pence was there to watch it. Instead of heading to the clubhouse after being pulled from a Spring Training game, Pence stayed on the bench for nine innings.

"It just shows you how committed he is to this team," manager Chris Woodward said

. "How much he wants to be a part of it and his leadership ability." Pence doesn't seem himself as a mentor, and he says it's not about pulling a young player aside to tell him how it's done.



"It's just being a teammate," Pence said. "It's not saying, 'This is what you have to do.' It's more like, 'How can we be better together?' It's an open door. We both grow and get better from working together. 'What do you think about this? ... I felt this. … 'Oh yeah you're right.' Just that open discussion."

Calhoun has had many people help him in his quest to become a Major League player

. He and Delino DeShields are especially close. But Calhoun grew up in the Bay Area and was a Giants fan. He knows who Pence is. "I'm just trying to learn from him because he has been around the game so long," Calhoun said. "I ask a lot of stuff like how he handled failure when he was a younger player. He just told me he always believed in himself. He believed himself every step of the way [regardless if] he was having a really low day. He said him having that belief made him strong."

As for competing for the same job, Pence was clear about that

. "I am not competing for a job with anyone," Pence said. "We are here to compete to win a World Series and be the best team we can be. That's the only mentality I have. We want the best of everyone." (TR Sullivan - MLB.com - Feb 26, 2019)

TRANSACTIONS

June 2004: The Astros chose him in the second round, out of the University of Texas at Arlington. Hunter was thrilled that he was picked by the Astros, his favorite team when growing up. He signed for a bonus of $575,000. Rusty Pendergrass was the scout who signed him.

January 23, 2010: Pence and the Astros avoided arbitration, agreeing to a one-year $3.5 million contract for 2010. (Hunter was asking for $4.1 million against Houston's offer of $3.1 million.)

September 29, 2013: Hunter and the Giants agreed to a five-year (reported) $90 million contract.

February 19, 2011: Hunter defeated the Astros in a salary arbitration hearing. Pence makes $6.9 million in 2011 rather than the team's offer of $5.15 million.

Arbitrators Robert Herzog, Margaret Brogan, and Fredric Horowitz made the decision.

July 29, 2011: The Phillies sent top pitching prospect, Jarred Cosart, and their top hitting prospect, Jonathan Singleton, along with RHP Josh Zeid and OF Domingo Santana to the Astros; acquiring Pence.

January 27, 2012: Hunter and the Phillies agreed on a one-year, $10.4 million contract for 2012, avoiding salary arbitration. The pact also has award bonuses.

July 31, 2012: The Giants sent RF Nate Shierholtz, C Tommy Joseph, and RHP Seth Rosin to the Phillies; acquiring Pence.

January 13, 2013: Pence and the Giants avoided arbitration, agreeing on a $13.8 million contract for 2013.

September 29, 2013: The Giants announced Hunter's five-year deal that's worth reportedly $90 million.

Oct 29, 2018: Hunter chose free agency.

Feb. 7, 2019: The Rangers signed three-time All-Star outfielder Hunter Pence to a Minor League contract with an invitation to Spring Training.
Batting
Pence doesn't look good doing anything, but he does everything very well.

Hunter hits from an unorthodox, crouched batting stance and chokes up on the bat a lot—especially for a big man. But he is an offensive force, even with the hitch in his swing. He is in perfect hitting position when he swings. He hits with authority, lining shots all around the park and over the fence. He has great power and hits for a solid batting average.

Asked about being righthanded power hitter who is often off-balance when he finishes his swing, Pence said, "Yeah, but a lot of times I'm off-balance falling to the first-base side. I'm the Ichiro of the right side!"

Pence began choking up on the bat when he was 12 years old, and he's done it ever since. Why?

"I was a big fan of Barry Bonds, and he choked up on the bat, so I started doing it. It's really uncomfortable to go to the bottom of the bat," said the rookie outfielder.

"I feel like I have more bat control. It's not like I'm lacking in power. Power for me comes from having the right timing and catching the ball square on the right plane. Some people say that choking up gets rid of power, but I don't really think that's true."

Pence also wears just one batting glove on his left hand, because "it was cheaper when I was younger to just buy one."

"I just kind of got used to it. If I put one on my right hand, I don't feel like I can feel the bat in my hand. If I take the left one off, I feel like I can't grip the bat. It's just weird. If I add one or take away the other, it's really uncomfortable. Maybe my equilibrium is messed up." (Jason Grey-MLB.com-5/24/07)

After the 2006 season, Hunter worked to fix the hitch in his swing in the Arizona Fall League.

"I worked on getting my foot down early, being ready to hit on time, and got rid of my leg kick," Pence said. "My leg would come up and my hands would drop at the same time. A lot of good hitters have done the same thing. I don't feel it when I do it. It just kind of happens."

One thing that stands out when Pence hits is how much he chokes up on the bat. That hasn't changed except for one minor adjustment.

"Yes, I still choke up," Pence said. "I have done it my whole life and it's comfortable. I actually got a bit longer bat this year. I was using a 34-inch bat last year and now I'm at a 34 and a half."

Both changes should help him lay off sliders out of the zone.

Hunter looks like an old-time country ballplayer, with his strong, hunched back. He has an open stance and sets up away from the plate, so he has trouble covering the outside corner with his bat. And he is a sucker for sliders off the plate.

Hunter gets good extension. And he has quick hands that enable him to turn on even the hardest heat. Those quick hands enable him to get into good hitting position before the ball reaches the plate. He has a fast bat.

Pence does have a lot of movement in his swing. He plays with a lot of intensity. He gets his uniform dirty by the second inning every game, it seems.

In 2006, Hunter tinkered with his load, lifting his back elbow and turning his right wrist just a tad so he could get more backspin on the ball. And it did improve his ability to drive the ball.

He is a very disciplined, pure hitter. He works himself into a hitter's count and then nails the ball with his excellent bat speed, generated by very quick hands. He doesn't have a picturesque swing, but an effective trigger enables him to dominate at the plate. He has a real feel for hitting, and a real knack for putting the fat part of the bat on the ball.

Pence has such a powerful bat. "He's got some of the best power I've ever seen," said Buster Posey who tries to go before Pence during BP so he doesn't follow his "moon shots."

Before he closes his book, Giants outfielder Hunter Pence stares and stares at a card marking his page. It's an eye exercise, designed to merge two 3D circles into one shape. The task is trickier than it sounds, and Pence insists the endeavor helps him at the plate to decipher a tailing fastball from a nasty slider.

Hunter is a middle-of-the-order hitter who chokes up on the bat with one hand gloved and one hand bare. "When I was a kid," Pence said. "they sold batting gloves for $5 for one, and $20 for a pair."

Hunter's a free swing, never hesitating to swing at fastball eye-high or breaking balls below the knees. He is maximum effort, never getting cheated on a swing and always following through with every ounce of energy.

"I've accepted the fact I'm not going to look that graceful when I play baseball. For me, it's about what's going to give me the most comfort and the best chance to be at my best," Hunter said.

Nobody turns a negative into a positive quite like Pence.

2018 Changes: Pence's new swing stands out right away. To start with, Pence is usually in an open, spread out stance. He is standing tall with his feet much closer together and he appears just slightly open.

Hunter has also changed where his hands initially start. He is holding the bat much lower and more upright. Ironically, this looks a lot like the man who may have stole Pence's job if he was healthy right now -- Mac Williamson. Even Pence's leg kick is slower and less jerky, much like Mac's. Since Pence's changes to his swing presumably began, he is hitting .467.

As of the start of the 2019 season, Pence's career Major League stats were: .280 batting average, 224 home runs and 1,701 hits with 887 RBI in 6,082 at-bats.
Fielding
Hunter is a good outfielder. He covers enough territory to play center field, and he has enough arm for right.

Pence tends to outrun a ball now and then. You can expect his breaks and routes to the ball to improve. He has been getting better read for the ball off the bat every month.

Pence has an unusual, funky throwing motion. His throwing mechanics are about as unorthodox as his hitting mechanics. But he has decent arm strength and his throws are accurate.

"I know that it looks a little funny, but I know where it's going," he said. "I feel like I have the strength to put it where I want it. In a game, I usually let it fly a little more than I would in practice because I save a little bit for the games. I don't like to chuck and put wear and tear on my shoulder in practice. I try to strengthen my arm by throwing at 70 percent during practice."
Running
Pence has good speed, especially for someone who hits with such good power.
Having worked diligently during the offseason before 2013 spring training to improve his speed, Pence seized upon his enhanced mobility to successfully steal 22 bases during the season.

September 2, 2014: Hunter dashed across home plate tallying his 100th run of the season. He became only the 12th Giant not named Mays or Bonds to reach 100 runs since the Giants moved to San Francisco in 1958.

Combined, those 12 Giants scored 100 runs in a season 20 times, led by Brett Butler and Orlando Cepeda with three apiece. By contrast, Mays plus Bobby and Barry Bonds reached 100 runs 23 times.

Pence's running motion is like none other. Hunter will lean forward as he runs, picking his knees up on an angle. Pence also swings his arms wide.
Career Injury Report
2004: Hunter missed three weeks of his junior season at the University of Texas-Arlington with a hip flexor strain.

June 13, 2005: Pence was on the D.L. with a strained quadriceps muscle while running out a ground ball.

July 23-August 21, 2007: Hunter was on the D.L. when he made another dangerous slide and suffered a chip fracture in his right wrist.

Pence has injured both wrists numerous times, admitting, "I've had problems my whole career," Pence said. "Whatever wrist it is, whichever side I slide on, this will be the third or fourth time [I've gotten hurt]. This was the second-worst. I injured it before and had to have surgery on my left one."

Manager Phil Garner preaches a simple method of sliding into second base—go straight in, with the hands in the air. But Pence slides differently when the fielder is playing behind the bag, which sometimes causes him to fall too violently into the slide and roll over, jamming his wrist.

Pence realizes that he has to change this method. Otherwise, he's probably in for more bone breaks.

"When they're behind the bag, you can't get to the fielder," he said. "You just have to do everything you can to distract him sliding into the base, into the front of the base. That way, I can get my hands up, jump over the base and I don't land on my wrist."

February 18, 2008: Pence suffered cuts over much of his body, especially on both hands and knees, after falling through a sliding glass window at his apartment. He spent much of the night in an Orlando area emergency room getting stitches for the lacerations. He missed the first week of spring training.

Pence said he was preparing to go into a hot tub with a friend outside his apartment when he decided to go to the bathroom first. At that point, he had left the door open. Before he headed back, though, he said his friend had shut it. And unfortunately for him, he didn't realize the sliding door was shut as he tried to hop on to a ledge. Immediately after the accident, Pence tried to go shower.

"I tried to just go up to the bathroom to shower to get all the glass off me, but I was bleeding pretty bad," he said. "I called my parents, so they said to call 911."

He said firemen, emergency personnel, and paramedics arrived at his apartment, cleaned him up, and bandaged his wounds "so I wasn't bleeding all over the place."

March 23, 2011: Pence needed four stitches to close a gash on his right shin when he was injured while sliding into home plate in an Astros exhibition game win over the Pirates. He did not know how he was cut.

October 2011: Hunter had sports hernia surgery in Philadelphia.

April 22, 2012: Pence injured his shoulder diving for a baseball. An MRI showed only a bruised left rotator cuff and no structural damage, so he missed only one game.

Hunter took a physical before signing with the Giants in 2013, and it led to his being diagnosed with Scheuermann's disease, a condition that causes an increase in the rounding of the upper spine and a lack of flexibility.

"It made things make more sense," Pence said. "Earlier that spring, they measured my thoracic spine flexibility, and I was like off-the-charts low. They told me I have to work on flexibility, but two days later, my back was locking up so bad I couldn't even swing properly.

"I said, 'Hey, can I stop doing this?' As soon as I stopped, my back went back to feeling great. At the end of the year, they said, 'Oh, this is why you couldn't do those stretches. It's bone on bone.'"

About the prognosis, Hunter said, "You have to be really careful reversing your car. You can't really turn around very well. They said, 'Well, that's probably why your warm-up swing is so weird.'

"They said I was supposed to be 6-foot-8m but I'm 6-4, and that's a huge advantage for baseball. I don't have as big a strike zone and I have the wingspan of a 6-8 person." (Tim Keown - ESPN the Magazine - 12/22/2014)

March 5-May 16, 2015: Hunter suffered a non-displaced fracture of his left ulna (in his forearm) and will be out six to eight weeks. He was hit on the left arm by a pitch from hard-throwing Cubs prospect Corey Black of a spring training game. X-rays taken before the end of the game confirmed the injury to the ulna, one of two bones that make up the forearm.

June 3-July 7, 2015: Pence was on the D.L. with a sore left wrist. It happened while making a diving catch.

August 18, 2015: Pence will miss about two weeks with a moderate strain of his left oblique.

2016 Spring Training: Pence was slowed during early spring training with right Achilles tendinitis.

June 2-July 30, 2016: Hunter was on the DL with a right hamstring strain.

May 15-June 4, 2017: Pence was placed on the DL with a left hamstring strain.

April 20-June 2, 2018: Hunter was on the DL with right thumb sprain.



Feb 18, 2019: Outfielder Hunter Pence did not participate in the Rangers' first full-squad workout because of a sore right shoulder. The Rangers do not believe it is serious but are going to give Pence some time off.


"It shouldn't be a big deal," Rangers assistant general manager Shiraz Rehman said. "It's just a sore shoulder. He'll take today off, maybe a couple of days and then we'll have a better idea."



Pence said he injured the shoulder on his next-to-last workout back in Texas before leaving for Spring Training.



"It's just a little discomfort," Pence said. "Hopefully a few days and I will get right back at it. It's unfortunate timing, but we have to get it right."