ZACK DONALD ZACKARY GREINKE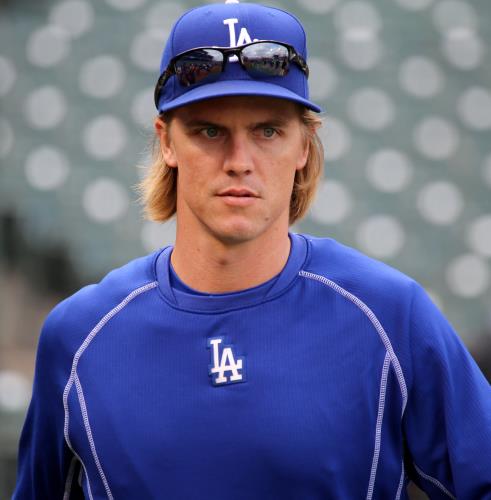 Nickname:
N/A
Position:
RHP
Home:
N/A
Team:
DIAMONDBACKS
Height:
6' 2"
Bats:
R
Weight:
200
Throws:
R
DOB:
10/21/1983
Agent:
Casey Close, Excel
Uniform #:
21
Birth City:
Orlando, FL
Draft:
Royals #1 - 2002 - Out of high school (FL)
| YR | LEA | TEAM | SAL(K) | G | IP | H | SO | BB | GS | CG | SHO | SV | W | L | OBA | ERA |
| --- | --- | --- | --- | --- | --- | --- | --- | --- | --- | --- | --- | --- | --- | --- | --- | --- |
| 2002 | GCL | Royals | | 3 | 5 | 3 | 4 | 3 | 3 | 0 | 0 | 0 | 0 | 0 | | 1.93 |
| 2002 | NWL | SPOKANE | | 2 | 5 | 9 | 5 | 0 | 2 | 0 | 0 | 0 | 0 | 0 | | 7.71 |
| 2002 | CAR | WILMINGTON | | 1 | 2 | 1 | 0 | 0 | 0 | 0 | 0 | 0 | 0 | 0 | | 0.00 |
| 2003 | CAR | WILMINGTON | | 14 | 87 | 56 | 78 | 13 | 14 | 3 | 1 | 0 | 11 | 1 | | 1.14 |
| 2003 | TL | WICHITA | | 9 | 53 | 58 | 34 | 5 | 8 | 9 | 9 | 9 | 4 | 3 | | 3.23 |
| 2004 | PCL | OMAHA | | 6 | 29 | 25 | 23 | 6 | 6 | 0 | 0 | 0 | 1 | 1 | | 2.51 |
| 2004 | AL | ROYALS | $300.00 | 24 | 145 | 143 | 100 | 26 | 24 | 0 | 0 | 0 | 8 | 11 | | 3.97 |
| 2005 | AL | ROYALS | $331.00 | 33 | 183 | 233 | 114 | 53 | 33 | 2 | 0 | 0 | 5 | 17 | | 5.80 |
| 2006 | TL | WICHITA | | 18 | 105.2 | 96 | 94 | 27 | 17 | 1 | 0 | 0 | 8 | 3 | 96 | 4.34 |
| 2006 | AL | ROYALS | | 3 | 6.1 | 7 | 5 | 3 | 0 | 0 | 0 | 0 | 1 | 0 | 0.28 | 4.26 |
| 2007 | AL | ROYALS | $407.00 | 52 | 122 | 122 | 106 | 36 | 14 | 0 | 0 | 1 | 7 | 7 | 0.265 | 3.69 |
| 2008 | AL | ROYALS | $1,400.00 | 32 | 202.1 | 202 | 183 | 56 | 32 | 1 | 0 | 0 | 13 | 10 | 0.257 | 3.47 |
| 2009 | AL | ROYALS | $3,750.00 | 33 | 229.1 | 195 | 242 | 51 | 33 | 6 | 3 | 0 | 16 | 8 | 0.23 | 2.16 |
| 2010 | NL | ROYALS | $7,250.00 | 33 | 220 | 219 | 181 | 55 | 33 | 3 | 0 | 0 | 10 | 14 | 0.26 | 4.17 |
| 2011 | PCL | NASHVILLE | | 2 | 7.2 | 10 | 9 | 2 | 2 | 0 | 0 | 0 | 0 | 1 | | 4.70 |
| 2011 | FSL | BREVARD COUNTY | | 1 | 3 | 1 | 4 | 0 | 1 | 0 | 0 | 0 | 0 | 0 | | 0.00 |
| 2011 | NL | BREWERS | $13,500.00 | 28 | 171.2 | 161 | 201 | 45 | 28 | 0 | 0 | 0 | 16 | 6 | 0.245 | 3.83 |
| 2012 | AL | BREWERS | $13,500.00 | 21 | 123 | 120 | 122 | 28 | 21 | 0 | 0 | 0 | 9 | 3 | 0.254 | 3.44 |
| 2012 | AL | ANGELS | | 13 | 89.1 | 80 | 78 | 26 | 13 | 0 | 0 | 0 | 6 | 2 | 0.242 | 3.53 |
| 2013 | NL | DODGERS | $21,000.00 | 28 | 177.2 | 152 | 148 | 46 | 28 | 1 | 1 | 0 | 15 | 4 | 0.234 | 2.63 |
| 2013 | CAL | RANCHO CUCAMONGA | | 1 | 4.1 | 6 | 4 | 0 | 1 | 0 | 0 | 0 | 0 | 0 | | 6.23 |
| 2014 | NL | DODGERS | $28,000.00 | 32 | 202.1 | 190 | 207 | 43 | 32 | 0 | 0 | 0 | 17 | 8 | 0.247 | 2.71 |
| 2015 | NL | DODGERS | $27,000.00 | 32 | 222.2 | 148 | 200 | 40 | 32 | 1 | 0 | 0 | 19 | 3 | 0.187 | 1.66 |
| 2016 | NL | DIAMONDBACKS | $34,000.00 | 26 | 158.2 | 161 | 134 | 41 | 26 | 1 | 1 | 0 | 13 | 7 | 0.262 | 4.37 |
| 2016 | AZL | AZL-Diamondback | | 1 | 3 | 4 | 5 | 0 | 1 | 0 | 0 | 0 | 0 | 1 | | 0.00 |
| 2016 | PCL | RENO | | 1 | 5 | 9 | 5 | 2 | 1 | 0 | 0 | 0 | 0 | 1 | | 9.00 |
| 2017 | NL | DIAMONDBACKS | $31,877.00 | 10 | 67 | 53 | 78 | 12 | 10 | 1 | 0 | 0 | 6 | 2 | 0.216 | 2.82 |
Today's Game Notes
May 6, 2017: So far, Greinke has not lost in eight career starts.
Personal
Zack's father, Don Greinke, is a middle school teacher. His mother also was a school teacher. Both are retired now (2009), but they keep busy.

"My Mom can't help but find work somewhere, she just has to be doing something. My Dad just fixes the yard and goes to the gym every day and that's about it. My Mom just keeps finding work and takes the dog on a bunch of walks and stuff," Greinke said.

When Greinke started playing baseball at Apopka High School, he was an infielder who played mostly shortstop, with a powerful bat and did not pitch at all. He looked up to slugger Mark McGwire. By the end of his high school career, he had batted over .400 and hit 31 home runs.

Greinke became a pitcher by accident, as an experiment to see if his strong throwing arm would result in him being a good pitcher. As a senior in 2002, Greinke was named the Gatorade National Player of the Year.

That senior year at Apopka High School in Florida, Zack signed a letter of intent with Clemson. The school was impressed with his 9-2, 0.55 ERA, and 118 strikeouts in 63 innings.

But the Royals signed Greinke to a bonus of $2.475 million after making him the 6th pick overall in the 2002 June Draft. Cliff Pastornicky was the scout who signed him.

"I was probably the only person—me and the Clemson coaches—who thought going to college was the best idea," Zack recalls.

Greinke is intelligent and a gentleman with excellent manners. He is intelligent, which is apparent with his being an honors student at Apopka High School in Florida. But he is not very talkative—not to reporters, not even to teammates. He thinks through his responses and then replies.

But characterizing him with any particular adjective is like trying to describe the sky with a single word. Some days he's aloof. Some days he's poignant. Some days he's brilliant. Some days he's hushed.

"He's a very quiet kid," pitching coach John Cumberland said in 2004 spring training. "And he's a little bit different. But different in a good way. I don't mean anything negative by that. He has a lot of confidence in himself. He's cocky, and I don't see anything wrong with that. He believes in himself. He's not been intimidated so far in his pro career by anybody. I hope that continues."

An amazing athlete, Zack played both tennis and golf in the 14-year-old age group when he was just 11 years old.

Greinke used to play Ping-Pong with a friend, Ricky Santo, and lost every time. It killed him. So Greinke replayed individual points—his head a working TiVo that dissected Ricky's game—and pounded Ricky the next five games they played.

At 4, Greinke played first base because he was the only kid on the team who consistently caught the ball.

He liked it when his father, Don, cut a hole in the fence behind their Orlando house so they could escape to the Conway Middle School field for a catch. In high school, Greinke would rap on Sonny Hill's door at 7:30 a.m. in the fall, begging his coach to come outside for some tossing before school.

"Passion, I tell you," Hill said. "He always had it. He always was ahead of everyone else, and it's because he loved it."

Oh, he loved other aspects of it, too. A high school tournament in Atlanta held a home-run derby before the games. Before he used all his outs, Greinke already clinched the competition. Then he started batting left-handed. No good reason, it seemed, other than to show off. Which Greinke did when he blasted a home run, tossed his bat and walked off the field. (Jeff Passan-K.C. Star-5/19/04)

Greinke has played the game almost year-round since Little League baseball won his heart over tennis and golf. But because his parents have been watchful, his coaches mindful of his long-term future in the game, and his teams deep in pitching, he might be the ultimate prize prospect: a Sun Belt high school ace with a fresh arm.
Zack is a baseball rat who just likes to work at and play the game. He has great makeup.
In 2003, Greinke was named to the Futures Game roster, played in July at U.S. Cellular Field in Chicago.
In 2003, Zack was named the Carolina League Pitcher of the Year. He went 11-1 with a 1.14 ERA at Class A Wilmington before his promotion to Double-A Wichita.
In 2003, he was named the Royals' Minor League Pitcher of the Year, as the Alex George award winner. Greinke held Carolina League opponents to a .178 average.
Greinke said he is pretty thrifty and hasn't spent much of the $2.5 million bonus he received from the Royals. "I haven't spent that much," he said. "My goal is to be the cheapest millionaire in history."

That frugal nature started as a child. "I'd get allowances from my parents but I'd always keep some to put in the bank," Greinke said. "I think that made my parents proud."

Not that Greinke has tucked away every nickel from that signing bonus. He did invest in a house, a Lincoln LS for himself, and a truck for his brother. Oh, and "a couple of clothes."

Before 2004 spring training, Baseball America ranked Zack as the top prospect in the Royals organization.

Zack's wife, Emily (Kuchar) is a former Dallas Cowboys cheerleader and a former Miss Daytona Beach in 2008.

The couple married in 2009. He let her handle almost all of the wedding arrangements.

Greinke is a bit of a character, and charmingly honest. For example: say a Royals pitcher gives up a long home run. He stomps around the dugout grumbling, "I didn't think it was that bad a pitch."

Greinke will say: "Oh yeah, it was a bad pitch."

"Thanks, Zack."

"No, really. I went back and looked at on the video. It was a fat pitch. Right down the middle. It was terrible. I could have hit it out."

"All right! Got it! Thanks, Zack."

"Um," Greinke will say then as he sees anger twisting in his teammate's face, "did I say something wrong?" (Joe Posnanski-KC Star-1/15/06)

Greinke always had a talent for looking bored. Everyone noticed it. Scouts, in fact, wrote those words, "He looks bored," on their reports again and again. During interviews Greinke would stare at the ceiling, as if the answers could be divined from the tiles. Before games, Greinke would sit in front of his locker and look off into the distance.

PSYCHOLOGICAL PROBLEMS

Zack left the Royals spring camp on February 25, 2006. For two weeks, his absence went unexplained. It was then found that Greinke was undergoing counseling from a sports psychologist near his home in Orlando, Florida as part of a treatment program for longstanding emotional issues.

For all of his 22 years, Greinke has been a man defined by two powerful but disconnected traits: 1) He is a phenomenal baseball player, and 2) He is emotionally unequipped to handle everything that comes with playing at the highest level.

Small talk always eluded him. Locker rooms, clubhouses, and crowds made him uncomfortable. He felt out of place everywhere but the mound. Then, two months ago, he felt lost there, too. During one spring training bullpen session, everything spilled out, forcing him to finally deal with longstanding emotional issues.

"The way I was throwing," he says, "it wasn't me throwing. I couldn't throw a strike. I couldn't think about throwing a strike. I couldn't focus. And I had the worst bullpen of my life one day, and the next time I was trying to throw my arm off just because I was going crazy. I was throwing everything 100 miles per hour. That's when I was like, I can't keep doing this."

From an early age, Greinke didn't know what to do with empty spaces. Even during Little League, he hated to arrive at the ballpark a half hour before games. He never seemed to know what to do or say.

"I knew there was something wrong with me," he says, "but I never thought about going to see anyone to talk about it."

He gravitated toward solitary pursuits. Even today, he loves golf, fishing, and mountain climbing. High above Phoenix, where he likes to trek, he can look down on everyone else, happy up near the clouds.

Growing up, there were signs. As an 8-year-old tennis player with a 50-0 record, he finally got beat. It was the only tournament match he lost, and he said it was the last one he would play.

"I lost on purpose," he says. "I had problems; I'd get real nervous before the games. The last time, I got so nervous and I was like, 'Dad, I can't play anymore.' I was going crazy thinking I was gonna lose. I got so nervous I ended up hitting every ball straight into the net. The second set, I was loose and I beat the guy like 6-2. I ended up quitting in the last one. I hit them into the net again." (Wright Thompson-K.C. Star-4/20/06)

In 2005, Greinke apologized to his teammates for the way he treated them.

"I treated a lot of them like crap because I felt so miserable that I acted rude to everyone," he told the Kansas City Star. "I was taking it out on people I was friends with. The way I was doing it, it was out of control."

Zack two months off at the start of 2006, during which he was found to have social anxiety disorder, a condition marked by tension in social settings. He began taking medication, which made a big difference. He began to think more positively about baseball, too, which made a big difference. When he returned to pitch that June of 2006, at Double A Wichita, he found himself enjoying the experience. He started to throw as hard as he could.

During 2007 spring training, Zach explained the despair he went through in 2006:

"I really don't know what it is or what it was," Greinke said. "Depression kind of runs in my family. Supposedly, it goes down through (genetically). But I don't know if that's what I was actually going through.

"The medicine I take is an antidepressant. So (depression) must have something to do with it. That and social anxiety. But I don't think it was a serious case. I mean, I never thought about killing myself.

"It was always, once I got away from baseball, I was fine. So I didn't think about it as (an emotional disorder). I just thought that, at the baseball field, I was unhappy."

That misery reached such depths that Greinke often contemplated quitting baseball while still in the minors. His inability to handle the down time between starts heightened his turmoil and made him yearn to be a hitter or at least a relief pitcher.

"I'd talk to my agent all the time and ask him: 'How can I tell the Royals that I don't want to pitch? That I want to try hitting?'" said Greinke, who added he knew there was no chance of that happening, which increased his frustration. "I thought that was why I hated baseball. I thought it was because I wanted to hit.

"It would be at least once a month that I'd be crying to myself while I'm going to bed with a bat in my hand, just swinging it. It's stupid. That doesn't happen anymore." (Bob Dutton-KC Star-2/22/07)

April 13, 2007: Zack was granted a leave from the team to attend the funeral of his grandparents. After traveling to Kansas City to watch their grandson's start against the Boston Red Sox, Mary L. and John B. Wilkin died within hours of each other on April 12 and April 13.

Greinke was suspended for five games and fined an undisclosed amount for intentionally throwing at Nick Swisher during a game on August 3, 2008 after warnings had been issued to both Clubs following a bench-clearing incident.

Greinke likes playing cards with teammates to pass time before games. His favorites?

"Pluck, Spades, or Hold 'Em—all those are good," he said.

Greinke is always the competitor, of course, but he finds cards as a way to relax.

"I feel like it's best when you don't get intense in cards and just stick to the plan and strategy and don't really mess with it, because when you do something that doesn't work or the odds aren't in your favor, you're going to lose more than you're going to win that way. So that's how I play," Greinke said.

He also plays golf, or just stays on the computer during down time.

In 2010 spring training, Tracy Ringolsby, FSN Rocky Mountain writer, asked Greinke where his Cy Young trophy was.

"My parents have it," Zack said. "It's probably hanging up above the fireplace. They get all my awards. I've only kept one."

And that one is?

"Mizuno gave me a samurai sword," Greinke said. "We're shipping it to Kansas City. I couldn't take it on the plane. It's cool."

Zack doesn't particularly enjoy the public life, but there is no false front for him. Former manager Buddy Bell put it best when he once said that Greinke always tells the truth, "even when he shouldn't."

Greinke said, "I am the same person I always have been, but my attitude is different. I used to get so nervous and upset. I was always angry and doing stuff. I over-trained. I'd do something and wouldn't feel it was good enough and so I'd go out and run three miles or five miles."

The Greinke family has some ties to Wisconsin. Zack's Dad, Don, has two second cousins. Art and Bill Greinke are from Waukesha, Wisconsin, and Sheboygan, Wisconsin, respectively.

Brewers catcher Jonathan Lucroy was asked about Greinke.

"His personality's a lot different than others, but once you get to know him and figure him out, he's a joy to be around. He's a lot of fun," said Lucroy. "He has a really dry sense of humor, but he's mostly cracking jokes all the time and running his mouth. It's a lot of fun, because he means well, he wants to win, and he loves this team."

Before his Game 1 start in the 2011 NLCS, Zack was frank and joked around about his teammates. On teammate Ryan Braun's description of his awkwardness, Greinke drew laughs: "He's jealous of a lot of things I do."

As for his impression of center fielder Nyjer Morgan, it was honest, and Greinke drew more laughter."Ninety-five percent of the time, he's great," Greinke said. "Everyone else probably likes him 100 percent of the time. But every now and then, he talks too much for me and gets annoying. But I tell him that. Everyone on the team loves him."

Just before the 2012 draft, Greinke helped the Brewers by breaking down video of potential draft choices.

Just before Zack signed with the Dodgers in December 2012, the team was blown away by Greinke's baseball knowledge and candor in a personal interview. Manager Don Mattingly hailed Greinke as a baseball junkie and said the social anxiety disorder is a non-issue.

Dodgers teammate Clayton Kershaw noticed early in 2013 spring training that Greinke is very attentive.

"He just studies," Kershaw said. "He watches, and I think that's how he learns. Whether it's pitchers on our staff or games or video or whatever it might be, he looks like he just takes it right in. I think it's a testament to how smart he is and how much he likes the game."

Greinke got in a little trouble when he commented in February 2014 that he was not excited about the Dodgers opening the season in Australia a week before 28 other teams begin their campaigns.

"I would say there is absolutely zero excitement for it," Greinke told ESPNLosAngeles.com. "I can't think of one reason to be excited for it."

The Dodgers responded to the uproar from Australia by explaining that the team, as a whole, is looking forward to the excursion.

"Zack has this endearing, contrarian quality to him that we all know and love about him," Dodgers president Stan Kasten said. "He's famously focused and meticulous about his training regimen. It's what makes him so good and such a great teammate. This is clearly going to alter his routine. I understand that aspect of it."

Greinke is quiet and he thinks a lot about his craft. At some point, he seems to have devised a new plan of attack. Instead of exerting maximum energy on every pitch, he exerts maximum game plan in every start, mixing up an assortment of above average pitches rather than smothering hitters with his nastiest. "Each has its strength, because when you could just throw as hard as you can and throw a slider as hard as you can, you feel dominant, you feel powerful," Greinke said. "Right now, you have to use your brain more." (5/16/14)

In 2012, while with the Brewers, Greinke became the first Major League pitcher in 95 years to start three straight games.

Dodgers teammate/catcher A.J. Ellis relates: "Zack is a very thoughtful, very deliberate person. We don't bother him with idle talk. He always means what he says and is very particular with his words. He makes you think out of the box."

And Greinke is excellent at scouting young players.

Ellis says, "Zack likes to tell me, 'Someday when I run a Major League team, you're going to be my general manager. I'll be the assistant GM, but I'll run the team. You'll be the GM so you have to deal with the media, instead of me.'

"And you know what? He'd be great at it," A.J. says. (August 2015)

A man of few words, Greinke's reputation as distant is nearly legendary. At best, conversations are kept to a minimum.

"I remember the first day I became manager of the Royals," Kansas City manager Ned Yost said. "Zack was with the Royals at that time and throwing in the bullpen. I came over to him, introduced myself, and said, 'Hi. I know you don't like to talk, so I won't say anything going forward.' Zack turned and said one word, 'Thanks.'"

April 14, 2017: Greinke found it hard to fool his ex-teammates. 'They are an older, smarter team,' D-backs righty says after the loss to Dodgers. "It wasn't like the best I've ever pitched, but it's just their at-bats are super quality and they hit the ball hard a lot," Greinke said. "It was just a good game by them."

Greinke pitched for the Dodgers from 2013-15 before signing a six-year, $206.5 million free-agent deal with the D-backs. Is it possible that the familiarity his former team has with him is what causes him issues against them?"I don't know," Greinke said. "I'd say they are an older, smarter team and they've seen a lot of good junk pitches and so I don't trick them as much as some other teams, but even their young guys take good at-bats against me."

"It obviously wasn't Zack's best day," D-backs manager Torey Lovullo said. "I think he was just mislocating some pitches. His fastball command was maybe not as good as it had been in his last start. And they laid off some secondary stuff. I think they had a good game plan. Zack threw some quality pitches that were taken and forced him to elevate the ball and bring it in the zone and they took advantage of some mistakes." (S Gilbert - MLB.com - April 15, 2017)


TRANSACTIONS

June 2002: The Royals took Zack in the first round, out of Apopka High School in Apopka, Florida.

February 7, 2008: The Royals and Greinke avoided salary arbitration when they settled for about $1.4 million.

January 20, 2009: Zack and the Royals filed for salary arbitration. Greinke asked for $4.4 million and the Royals countered at $3.4 million.

But on January 26, 2009: Greinke and the Royals agreed to a four-year, $38 million contract with the Royals. The deal called for Zack to receive $3.75 million in 2009, $7.25 million in 2010, and $13.5 million in 2011 and 2012.

December 19, 2010: The Brewers sent SS Alcides Escobar, OF Lorenzo Cain, and righhanded pitchers Jake Odorizzi and Jeremy Jeffress to the Royals; acquiring Greinke, SS Yuniesky Betancourt, and cash (reportedly $2 million to offset the buyout of Betancourt's 2012 club option).

July 27, 2012: The Angels sent shortstop Jean Segura and Double-A pitchers Johnny Hellweg and Ariel Pena to the Brewers, acquiring Greinke.

December 6, 2012: Greinke and the Dodgers agreed on a deal of six years and $147 million.

November 4, 2015: Greinke entered free-agent market.

December 4, 2015: Zack signed with the Diamondbacks, a six-year, $206 million deal.
Pitching
Greinke throws his four-seam FASTBALL in the 92-97 mph range with good movement. He also has a heavy-sinking two-seamer at 89-94 mph. And he has a high-quality 87-90 mph CHANGEUP that is graded at 70 on the 20-80 scouting scale. He also hits spots with good tilt on his late-biting 85-88 mph SLIDER, a 74-77 mph spike-CURVEBALL that Royals pitching coach Bob McClure suggested just before Greinke left K.C.

His slider has depth and is thrown with a cutter grip. He added the pitch back in 2013. Though he holds the ball as if throwing a cutter, a pitch with mostly horizontal break, he rakes his fingers along the side of the ball to produce the spin of a slider, imparting downward tilt.

He has a spike grip on his curve to get more movement on it. And he can slow his curveball all the way down to like 63 mph and speed it up to like about 78 mph. Probably only Pedro Martinez could vary speeds 30 mph—from a 65 mph slow curveball to a 95 mph fastball. Zack goes 63 mph to 97 mph. (August, 2015)

2016 Season Pitch Usage: 4-seam Fastball: 40% of the time; Sinker 8.2% of the time; Change 20.7%; Slider 20.6%; Curve 10%; and Slow Curve .4% of the time.

MLB Network's Ron Darling said of Greinke, "Most pitchers are playing checkers when they pitch; Greinke's playing chess."

Great pitchers have one or two killer pitches. Greinke has three or four of them. Who is he pitching like? Well, a lot of people say Greg Maddux, but no, seems to me they're actually quite different. I think a much better comparison would be someone like Satchel Paige, who threw so many different pitches he would name them (the hesitation pitch, the bat dodger, the trouble ball, the midnight creeper, etc.).

He seems a lot like Juan Marichal, who would combat batters with a flurry of different motions and angles and pitches—hitting Marichal was like trying to hit a geometry lesson. (Joe Posnanski-K.C. Star-5/27/09)

Zack likes to talk in between innings, which is a bit surprising for the quiet guy.

Zack has smooth, easy arm action and a compact delivery. He repeats his delivery real well.

And Greinke simply carves up hitter after hitter.

He has excellent command of all of his offerings. He likes to move his heater on both corners of the strike zone. And he pitches well north and south (up and down) in the strike zone, too. And that is unusual for a pitcher to do well on all four edges of the strike zone.

Zack is a solid righthanded power pitcher. He is tenacious on the mound—a real bulldog. You have to like his mental tougness, polish, and poise. In fact, his poise could be at the heart of his success. He over powers batters both physically and mentally.

Greinke is a student of the game. And he is always absorbing more information from his pitching coach. Zack keeps a book on hitters. He studies them even when he is not charting them the day before his start, or pitching against them. And he charts all his own pitches. He watches opponents during batting practice, noticing where they hit the ball.

He knows baseball and loves pitching, studying it day and night. It is his mind that separates him from other pitchers. He understands the weaknesses of hitters and he has the command to pitch to those weaknesses with all four pitches. He carves guys up, with superb control, while altering speeds on both his fastball and curve.

Zack is calm. He has even been known to take a nap before he warms up to start a game. And on the mound, he never looks nervous.|

"I am relaxed out there," Greinke said, "because I'm confident in my abilities. I let my teammates play behind me. There's no need to get nervous because everything has already been taken care of on defense."

Greinke doesn't get a lot of strikeouts because he endeavors to get hitters to hit a weak groundout early in the count. That allows him to pitch later into games.

In 2004, one American League scout told Jeff Flanagan of the Kansas City Star: "I think he likes getting guys out without using his best pitch. He kind of toys with hitters. He might throw an 83-mph fastball one pitch and dial it up to 93 the next. He threw it at 95 in high school, but I don't think he feels a need.

"He constantly changes speeds on every pitch. He was at the 2003 Futures All-Star Game and he had just gotten two guys out, and then he throws a 58-mph curveball that bounces in front of the plate. He throws two strikes that are fouled off, and then he bounces another 61-mph curve. The next pitch is a dart on the corner at 92, strike three. The hitter didn't know what to expect.

"His composure and presence are way beyond his age."

Greinke does not like to go a long time without pitching.

"I feel better going on a short day than eight days in between starts," he explained. "I feel like I'm too strong and maybe feel too good and too rested."

In 2004 spring training, Royals President Dan Glass said he was most impressed with one of Greinke's Major League goals: "He wants to have a three-pitch inning," Glass said. "Most guys would want to strike three guys out in an inning, but he wants a three-pitch inning. That's pretty cool."

"He looks like he's 12 years old, but he's got the heart of a lion and the mind of a very, very wise person," former Royals manager Tony Pena said way back in 2004. "This kid, he pitches like he has been in the big leagues for 20 years. He looks like a veteran on the mound. He doesn't let anything get to him."

Zack is a master at inducing soft contact.

Most of his pitches float, sink or dart just off the plate down and away, mocking hitters with their carefully measured proximity, the way a mechanical rabbit does a greyhound.

Knowing that his expertise in going down and away precedes him, Greinke, midway through the 2015 season, he began throwing his changeup down and in to righthanders.

Every Greinke pitch begins the same. He pulls the baseball behind his body, out of the batter's view, as he points his glove toward the target. Everything stays so well in the same linear path—left arm, head, then right arm, then ball release—that Greinke could deliver a pitch down the narrow aisle of a regional jet.

The hitter doesn't see the ball until just before Greinke lets go of it. All five pitches come from spots that vary by no more than an inch, an imperceptible difference to a hitter.

Then the real artistry happens: The baseball behaves as Zack intends, to the befuddlement of hitters. Rarely across baseball history has the most fundamental principle of pitching—prevent the other team from scoring runs—been exercised this brilliantly for this long. (Tom Verducci - Sports Illustrated - 8/03/15)

BREAKOUT YEAR IN 2009
In 2009, Greinke was named the American Cy Young Award winner.

That year, Greinke led the American League in ERA (2.16) and was second in strikeouts, behind only Justin Verlander (269) of the Tigers. With Zack's 242 strikeouts and 51 walks, he fanned 191 more batters than he walked.

In April 2009, Greinke went 5-0 with a 0.50 ERA and 44 strikeouts in 36 innings. He allowed only two earned runs, threw two complete games, and became only the fifth pitcher since 1912 to post a 5-0 first month while owning an ERA under 1.00.
On August 25, 2009, Zack struck a Royals' franchise record 15 strikeouts in a 6-2 win over the Indians at Kauffman Stadium. That knocked Mark Gubicza out of the Royals' record book.

There is a stat called ERA+ that compares a pitcher's ERA to the league's, producing a number that can be handy to rank pitchers historically. An ERA+ of 100 is exactly average, an ERA+ of 110 is 10 percent better than league average, and so on.

In 2009, Greinke's ERA+ of 2.03 was the best in the American League (minimum 200 innings) since Pedro Martinez (2.91) in 2000. In fact, Greinke was just the fifth pitcher to have an ERA of less than half the league average while striking out more than 200.

May 2014: Greinke finished a historic 22 consecutive starts with two or fewer earned runs allowed. He surpassed Roger Clemens' run from 1990-91.

July 25, 2014: Greinke recorded a four-strikeout inning in an 8-1 win over the Giants, the second of his career and fifth recorded by a Los Angeles Dodgers pitcher. Greinke also struck out four batters in an inning with the Angels in 2012. He, Chuck Finley, and A.J. Burnett are the only pitchers in MLB history with more than one four-strikeout innings. (Ken Gurnick MLB.com, 7/26 2014)

July 26, 2015: Greinke extended his scoreless streak to 45 2/3 innings, giving up a run for the first time in six weeks. Opposing pitcher Jacob deGrom poked a single up the middle with runners on first and third.

2015 All-Star Game: Greinke became the first All-Star Game pitcher with four strikeouts since Pedro Martinez in the 1999 game.

The Mets ended Zack Greinke's scoreless streak at 45- 2/3 innings by scoring a run on pitcherJacob deGrom's fielder's choice in the third inning. With 45 2/3 innings, Greinke has the fourth-longest scoreless streak since 1961, behind Orel Hershiser (59), Don Drysdale (58) and Bob Gibson (47). It was the third-longest streak in Dodgers history, behind Hershiser and Drysdale.

"Five years ago I thought that one and Joe DiMaggio's [56-game hitting streak] were the two toughest," Greinke said. "It looks like people are getting closer to the Hershiser one."

Greinke was pitching for the first time in a week, and one day after returning from Los Angeles following the birth of his first child. He ended up allowing two runs over seven innings.

"Surprisingly, it wasn't as distracting as you'd think flying back and forth cross country," he said. "I felt strong today. I would maybe complain, but I started off really well and got worse. You'd think if it bothered me, I would have started off bad and get better." (Gurnick - mlb.com - 7/26/15)

In 2015, Greinke beat out teammate Clayton Kershaw and Jake Arrieta of the Cubs to win the Players Choice Award for National League Outstanding Pitcher.

April, 2016: The Diamondbacks' ballpark played very small during Zack's early-season starts. He made some great pitches that got turned around because of strong wind gusts, for example, or wind-blown doubles. That may have gotten into his mind.


Zack started the 2017 season with a career record of 155-100 and a 3.42 ERA, having given up 218 home runs and 2,133 hits in 2,253 innings (and 2,021 strikeouts, .249 BA against, 549 BB, and 20 IBB).
Fielding
Zack is an excellent hitter. He's better than some of the hitters on his team.
He holds runners on base well, too.

GOLD GLOVER


In 2014, Greinke won his first Gold Glove of award as the best fielding pitcher in the NL.
In 2015, Zack was awarded his second straight Rawlings Gold Glove for the NL.
Career Injury Report
2006: Greinke missed spring training and started the season on the 60-day D.L. while undergoing treatment for emotional issues in Orlando, Florida. He received psychological testing and medication as part of his treatment.

Zack was activated on June 21 and sent to the Wichita Wranglers (TL-Royals) to work his way back into pitching shape.

March 8-May 4, 2011: Greinke went on the D.L. after it was revealed that he suffered a hairline fracture in one of his ribs while playing pickup basketball a couple of weeks before spring training. The injury happened while he was going for a rebound. The hairline fracture was between the 7th and 8th ribs on his left side.
March 11, 2013: Zack was scratched from a spring training start with inflammation in the back of his right elbow. An MRI showed no structural damage. He an injection of platelet-rich plasma and anti-inflammatory medication. That was followed by three days of rest and then he went on a progressive throwing program.

April 12-May 15, 2013: Grenke went on the D.L. with a broken collarbone the day after a brawl between his Dodgers and the San Diego Padres.

After Padres slugger Carlos Quentin was plunked on the left shoulder in the sixth inning, Quentin started walking toward the mound. Greinke appeared to say something, and Quentin then charged him.

They dropped their shoulders and collided, and Quentin tackled the pitcher to the grass. Both ended up on the bottom of a huge scrum as players from both sides ran onto the field and jumped in. Greinke lowered his left (non-throwing) shoulder into Quentin and took the brunt of the blow as they collided. The force of the blow on the shoulder created a significant fracture of Greinke's collarbone closer to the shoulder than the sternum.

"I never hit him on purpose," said Greinke, who had his left arm in a sling and appeared shaken after the game. "I never thought about hitting him on purpose. He always seems to think that I'm hitting him on purpose, but that's not the case. That's all I can really say about it."

Asked if there was bad blood between the teams, Greinke, who twice hit Quentin with pitches when they were in the American League, said: "Now there probably is. I don't know if there was beforehand."

He said the injury, which will probably cost Zack two months of action, was "Awful. It's silly that something could happen like that. I'm disappointed."

April 13, 2013: Greinke underwent 90 minutes of surgery to stabilize the broken left collarbone. A metal plate and screws stabilized the break.

February 26-March 12, 2014: Zack missed two weeks with a strained right calf.

February 19, 2015: Greinke had a lubricating injection in his right elbow and was held back from throwing bullpen sessions early in camp. But the team says it is part of Greinke's normal spring routine.

June 29-Aug 9, 2016: Zack was on the DL with left oblique strain.