NOAH SETH SYNDERGAARD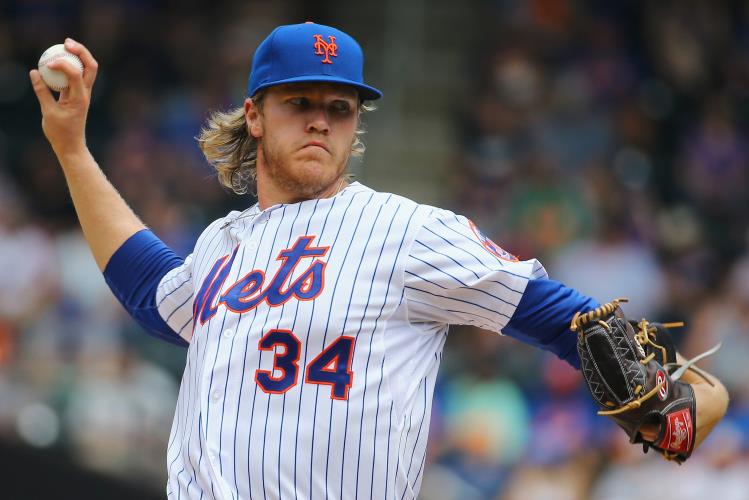 Nickname:
N/A
Position:
RHP
Home:
N/A
Team:
METS
Height:
6' 6"
Bats:
L
Weight:
255
Throws:
R
DOB:
8/29/1989
Agent:
N/A
Uniform #:
34
Birth City:
Mansfield, TX
Draft:
Blue Jays #1 (suppl.) - 2010 - Out of high school (TX)
| YR | LEA | TEAM | SAL(K) | G | IP | H | SO | BB | GS | CG | SHO | SV | W | L | OBA | ERA |
| --- | --- | --- | --- | --- | --- | --- | --- | --- | --- | --- | --- | --- | --- | --- | --- | --- |
| 2010 | GCL | GCL-Blue Jays | | 5 | 13.1 | 11 | 6 | 4 | 5 | 0 | 0 | 0 | 0 | 1 | | 2.70 |
| 2011 | MWL | LANSING | | 2 | 9 | 8 | 9 | 2 | 2 | 0 | 0 | 0 | 0 | 0 | | 3.00 |
| 2011 | NWL | VANCOUVER | | 4 | 18 | 15 | 22 | 5 | 4 | 0 | 0 | 0 | 1 | 2 | | 2.00 |
| 2011 | APP | BLUEFIELD | | 7 | 32 | 23 | 37 | 11 | 5 | 0 | 0 | 0 | 4 | 0 | | 1.41 |
| 2012 | MWL | LANSING | | 27 | 103.2 | 81 | 122 | 31 | 19 | 0 | 0 | 1 | 8 | 5 | | 2.60 |
| 2013 | EL | BINGHAMTON | | 11 | 54 | 46 | 69 | 12 | 11 | 0 | 0 | 0 | 6 | 1 | 0.228 | 3.00 |
| 2013 | FSL | ST. LUCIE | | 12 | 63.2 | 61 | 64 | 16 | 12 | 0 | 0 | 0 | 3 | 3 | 0.255 | 3.11 |
| 2014 | PCL | LAS VEGAS | | 26 | 133 | 154 | 145 | 43 | 26 | 0 | 0 | 0 | 9 | 7 | | 4.60 |
| 2015 | NL | METS | | 24 | 150 | 126 | 166 | 31 | 24 | 0 | 0 | 0 | 9 | 7 | 0.225 | 3.24 |
| 2015 | PCL | LAS VEGAS | | 5 | 29.2 | 20 | 34 | 8 | 5 | 1 | 1 | 0 | 3 | 0 | | 1.82 |
| 2016 | NL | METS | $535.00 | 31 | 183.2 | 168 | 218 | 43 | 30 | 0 | 0 | 0 | 14 | 9 | 0.243 | 2.60 |
| 2017 | NL | METS | | 4 | 26 | 23 | 30 | 0 | 4 | 0 | 0 | 0 | 1 | 1 | 0.23 | 1.73 |
Personal
Syndergaard spent the early part of his childhood playing soccer, and initially didn't want to give baseball a shot.

It was only at the encouragement of his family that Syndergaard picked up a baseball and started the very early steps of what could eventually become a promising future in the Major Leagues.

"The first year I was playing soccer, and then my mom made me get into baseball," Syndergaard said. "We actually had a big argument, with me telling her I didn't want to play, but I guess I just had a knack for it, but thank God she made me play.

If not for the stubbornness of Syndergaard's mother, Heidi, Noah might have pursued his athletic goals on the soccer pitch instead of the pitcher's mound.

Syndergaard gravitated toward soccer at the age of 4, and its hold on him was so strong that he butted heads with his mother over the idea of even trying baseball.

"She wanted to make me play baseball," Syndergaard said. "I didn't really want to do it, and she was like, 'All right, well, you're going to play one season.'

"I played one season, and I was like, 'All right, I'm over this.' She was like, 'No. You're going to continue to play.' Then we got into another argument. Thank goodness she made me stick with it. It's really paid off." (Lynn Worth - Gannett News Service - 8/24/13)

Noah's father, Brad, raises and breeds horses, and hit mother, Heidi, works in customer service for a medical device company. Ht has two half-sister, his father's daughter's, but he rarely sees them.

The young Syndergaard was uncoordinated. The family nickname for Noah is Bumpy -- for the knots that would rise on his forehead due to clumsiness. Any self-confidence left a while ago.

When his mom made him play baseball, the other kids made fun of him because he was bulky and hardly ever talked. And he didn't have hair under his arms.

The surprise is that, growing up deep in the heart of Cowboys country, Syndergaard didn't play football.

Perhaps it's because he said he was only an averaged-sized kid until late in high school, and got turned off to football playing in the seventh grade "against kids twice my size from football powerhouses at other schools." The coaches gave him a specially made helmet to accommodate his glasses and large head

Just as well, he said, because he grew up rebelling against his family's love of the Cowboys.

"I guess I was being a devil's advocate," Syndergaard said with a laugh. "But as a kid I hated the Cowboys. The only team I watched was the Rangers."

Noah's love of the gym began before his junior year at Mansfield Legacy High. When he asked his dad to take him to the YMCA to run and to try the workouts he'd read about in "Muscle and Fitness," his dad would sit in his truck and page through the "Fort Worth Star-Telegram" while his son began to transform himself.

"I'd always been self-conscious of my weight, how I appeared to other people," Noah says. "I wanted to change that . Then I got hooked."
In 2010, the Blue Jays chose Syndergaard in the supplemental first round of the draft, the 38th player chosen. He had pitched well in the Texas 4-A high school playoffs just before the draft. He had gone 7-3 with a 1.42 ERA and was ready to attend Dallas Baptist University to both pitch and play first base until Toronto drafted him.

"Their scouting department was pretty high on me, but I didn't really know they were going to pick me until about 30 seconds before," Syndergaard said. "I really had no idea at all. It was a dream come true, like Christmas morning when you're a kid. Having Roberto Alomar say my name, I don't even know what my feelings were, it was that powerful." Within a week of the draft, Noah signed with the Jays, via scout Steve Miller, for a bonus of $600,000.

In the spring of 2011, the Baseball America Prospect Handbook rated Syndergaard as the 24th-best prospect in the Blue Jays' organization. In 2012, they moved Noah all the way up to #7. And he was up again in the offseason before 2013 spring camps opened, to third-best prospect in the Jays' farm system. They had Noah at #1 in the Mets organization in the spring of 2014. And he was #1 again in the spring of 2015.

In 2011, pitching at three levels in the lower reaches of the Blue Jays organization, Noah compiled a 1.83 ERA and averaged 10.4 strikeouts per nine innings.

Since Little League, Noah Syndergaard's parents have kept a cedar chest in their home outside Dallas, filling it with their son's used baseball jerseys.

Syndergaard drove to 2013 Spring Training with his parents, from their home in Texas.

"My dad drove a good portion—we switched often. I drove a little, maybe five hours—but I was mostly in the back seat sleeping the whole way," Noah said, saying he liked having his parents in spring camp.

"It was awesome. I wish they could see me throw in a game. I had a minor injury and stopped for a while, but it was nice to go into a new place that you're not too familiar with and have your parents with you."

Syndergaard wears it all on his hand. His mentality, television viewing habits, and his alter ego are scrawled across the thumb of his baseball gloves.

Syndergaard, a 6-foot-6, 240-pound blond-haired Texas native, says that each of his gloves has a "name." During a game in August 2013, he sported a glove with ''LION'' written in cursive on it.

"Lion is just the mentality on the mound," Syndergaard said. "King of the jungle. King of the mound, I guess."

His other gloves are named Heisenberg for the character in the television show "Breaking Bad"; Rick Grimes for a character in "The Walking Dead"; and Drago, as in Ivan Drago, the overpowering, muscle-bound, blond-haired Russian boxer in the movie "Rocky IV." Drago is Syndergaard's game glove.

Syndergaard opened a lot of eyes during his senior year at Legacy High School in Mansfield, Texas, when he went 7-3 with a 1.42 ERA and struck out 85 batters in 59 innings. He credits the coaching staff at Legacy High for crafting a lifting and throwing program to build up arm strength. "I think my last three pitches of the game in the first round of the playoffs were 96, 97, 98," Syndergaard recalls.

Noah is not afraid to put himself out there, but don't mistake it for boasting. Quite the contrary, Syndergaard comes off as very level-headed, even humble, and he's quick to say he needs to "make big strides, especially with his changeup, just to be worthy of a big-league call-up.

It's just that he was raised as an only child in Mansfield by his parents, Brad and Heidi, to expect the best from himself, starting in the classroom.

"If I made a 'B' in a class," Syndergaard recalled, "I was pretty afraid to come home sometimes."

As a result, he says, he was a straight-A student, and believes that expectation of maximizing his potential eventually carried over to sports. "It's all about never being satisfied," he said.

By high school, Noah played only baseball, yet no one thought of him as even a college prospect until he grew some 4-5 inches to 6-4 going into his senior year. That was about the same time he discovered the weight room.

"I got dedicated in the weight room and something just clicked," he said. "I went from throwing 80 mph to 90 from my junior to senior year."

Even friends couldn't believe the transformation. A tireless work ethic could help result in a Big League callup for the young righthander.

"I barely recognized him," said Mike Smith, a pitcher who graduated two years ahead of Syndergaard at Mansfield Legacy High School and went on to get drafted by the Angels after attending Dallas-Baptist College. "For a long time he was just a regular-sized kid with some baby fat. He was the No. 2 pitcher on the freshman team.

"But then he grew and turned into something special. The size helps, but he also works harder than anyone I've ever seen. To be naturally gifted but still put in the work is pretty fun to watch. It makes you root for him even more."

You hear that a lot, talking to the people who know the Mets prospect well. His trainer, Ryan Mentzel, said Syndergaard squats 455 pounds and dead-lifts 512, numbers he says are stunning, even for someone who goes 6-6, 250.

"He's really, really strong," Mentzel said. "I mean, really strong. I work with a bunch of NFL guys and I'll tell you, nobody works harder than Noah. Sometimes we get to the point where I have to say, 'Hey, we've got to be careful at some point.' But I also don't want to hold him back either. He's just highly, highly motivated."

A superior work ethic and a fastball that touches 98 is a formidable combination. Yet baseball people say there is more to Syndergaard. His Double-A catcher in 2013, Blake Forsythe, raved about the kid's willingness to ask questions between innings on ways to pitch to hitters. "He's always looking for ways to get better," Forsythe said.

Scouts say he has a natural feel for pitching, which may explain why Syndergaard references Greg Maddux when he talks about wanting to disrupt hitters' timing by changing speeds, as well as go for the strikeout when needed.

"I'll elevate the fastball when I'm ahead in the count to try and get the strikeout," he said. "But if I've got a runner on first with less than two outs, I'll throw a two-seamer down in the zone on the outer half trying to get a double-play ground ball."

In short, he's a student of pitching, but above all, Syndergaard seems to have that Harvey-like something about him. In fact, his eyes lit up talking about the Mets' injured ace, in particular the night Harvey was so focused last season that he didn't notice he had a bloody nose on the mound.

"He's scary out there," Syndergaard said admiringly. "He's intimidating. That's something I want to resemble."

In a lot of ways he does already. But that last, huge step to the big stage still has to be taken. (John Harper - 1//22/13)

In 2014, Noah was selected to play in the Futures All-Star Game.

Syndergaard says he really grew up late in the 2014 season. He has learned self-control and improved his poise.

Noah is soft-spoken. He is also self-aware and very reflective on how he feels about his ability. He doesn't have swagger, but he has the tools to be a star.

April 24, 2015: Syndergaard was scratched from his start for Triple-A Las Vegas due to illness, prompting a give-and-take exchange with fans on Twitter that turned personal.

Syndergaard replied to several tweets criticizing him for missing the start against Albuquerque. When he received a second wave of criticism for responding, Syndergaard wrote: "I'm allowed to stick up for myself, aren't I?"

The Mets do not necessarily believe so, dispatching a member of the organization to speak with Syndergaard about his comportment.

"Generally speaking, Twitter is more of a trap than a means of positive communication for athletes and executives," General Manager Sandy Alderson said. "So I caution him against it. That's something the organization addresses immediately."
When Noah arrived for 2015 spring training, he drew attention for the wrong reason. Early in camp he made the mistake of returning to the clubhouse to eat lunch during an intrasquad scrimmage, and veterans David Wright and Bobby Parnell voiced their displeasure. The incident ended with Parnell grabbing Syndergaard's plate of food and dumping it in the trash in view of reporters.
Beginning of the 2015 season: In his second year at Las Vegas, Syndergaard has allowed four earned runs over his first two starts, spanning 7 2/3 innings. His growth process has been painful at times both on and off the field; this spring, Mets teammates David Wright and Bobby Parnell scolded Syndergaard for eating lunch in the clubhouse during a Grapefruit League game, throwing it in the trash, and instructing him to return to the bench. At 22 years old, Syndergaard boasts as high a ceiling as any pitcher in the organization. (A DiComo - MLB.com - April 24, 2015)

Syndergaard's father, Brad, trains horses outside Dallas, Syndergaard was never exposed to it much as a child. He estimated that he had ridden only about a half-dozen times. (Anthony DiComo - MLB.com. - March 2016)

May 11, 2016: Syndergaard belted two homers against the Dodgers while also holding LA to two runs over eight innings. He became the first big league pitcher to go deep twice in a game since Arizona's Micah Owings in 2007 and just the second Met to do it.

In his big league debut, Syndergaard batted eighth. He's only the third pitcher in the last 100 years to debut in a game without a designated hitter and not bat from the nine spot.

Syndergaard is one of two players from Mansfield Legacy High School making a name at the professional level. Wide receiver Josh Doctson, who was a year behind Syndergaard, was a first-round pick of the Washington Redskins.

Dog of Thunder: Syndergaard has earned the nickname "Thor" for his resemblance to the hammer-wielding Norse god, whose home planet of Asgard echoes Syndergaard's last name. His family has an Australian spaniel who was named "Thor" before Syndergaard received the nickname. And in the fall of 2016: Syndergaard made a guest appearance as Thor on Kevin James' new TV show.

October 2016: Just in time for the World Series, Cartoon Network's "Uncle Grandpa" animated series will sport a Fall Classic theme on Oct. 22.

The show featured Tampa Bay Rays pitcher Chris Archer, Baltimore Orioles All-Star center fielder Adam Jones, Houston Astros second baseman José Altuve, Boston Red Sox pitcher David Price and New York Mets pitcher Noah Syndergaard. The major-leaguers attempted to help Uncle Grandpa train his struggling Little League squad.

Favorite shows: Syndergaard's favorite TV series are "Breaking Bad" and "Game of Thrones." He's even named some of his gloves after characters from those shows, including Tyrion Lannister, Jon Snow and Heisenberg. Lion Drago from "Rocky IV," Rick Grimes from "The Walking Dead" as well as Thor and Loki are also represented in leather.

Dec 13, 2016: Within moments of the Red Sox landing Chris Sale at the 2016 Winter Meetings, Mets starter Noah Syndergaard took to Twitter, bristling at the notion that the Sox -- or the Cubs, or the Nationals, or anyone else -- now boast baseball's best rotation.

"I agree to disagree," Syndergaard wrote. Says Thor, "The Mets 'tight-knit' organization is tough to beat."

"Their ability is outstanding," Syndergaard said of the Mets' rotation, speaking at the team's holiday party at Citi Field. "We're kind of like a tight-knit brotherhood ourselves. We're all just rooting for one another."

And they will, of course, lean more than ever on Syndergaard, who enters the season on a short list of NL Cy Young Award favorites. Syndergaard's health is a key to the Mets' whole operation.

"I feel like I'm doing a pretty good job as far as my offseason strength-and-conditioning program," Syndergaard said. "So I'll be ready to go come February."

For now, Syndergaard is content resting and relaxing. He recently returned from Spain, where he vacationed outside Madrid with his parents. And he showed up in New York for the Mets' holiday party, an annual event for schoolchildren from various Queens neighborhoods. Asked what he wants for Christmas himself, Syndergaard didn't hesitate. "A World Series," he said. (A DiComo - MLB.com - Dec 13, 2016)

During the winter before 2017 spring training, Syndergaard worked out at the EXOS training facility in Frisco, Texas, with a group of other pro ballplayers that included D'Backs pitcher Shely Mller, Phillies catcger Cameron Rupp, and retired reliever LaTroy Hawkins.

One two-hour session in January ended with a grueling exercise in which the players pushed a sled loaded with 270 pounds down a gummy track and then pulled on carrying 330 pounds back. Some of the other players had to take several gasping minutes off between each pass. Noah never missed a turn.

Syndergaard's goal was to bulk up from 237 pounds to 250 pounds. He as off to spring camp at over 255 and had trimmed his body fat from 15.1% to 13.5%, meaning he had added some 17 pounds of muscle.

Noah Syndergaard is already the star of his own comic book film franchise, and this spring, he will add another credit to this IMDb page:

According to Ken Davidoff at the New York Post, Syndergaard filmed his cameo in Spain in November when he had some free time after the Mets were eliminated from the postseason in the NL Wild Card Game.

"They just know that I'm a fan and they invited me to do that," Syndergaard told MLB

.com's Anthony DiComo. "I couldn't say no." (MLB - Cut4 - March 3, 2017)
April 14, 2017: Syndergaard became the first pitcher in Mets history to strike out 20 batters before walking one to start a season.
TRANSACTIONS
June 2010: The Blue Jays chose him in the first round of the supplemental draft, out of Legacy High School in Mansfield, Texas.

December 17, 2012: The Blue Jays sent C John Buck, C Travis d'Arnaud, Syndergaard, and OF Wuilmer Beccera to the Mets. In return, they received R.A. Dickey and catchers Josh Thole and Mike Nickeas.
Pitching
Syndergaard has a 95-101 mph four-seam FASTBALL with rise. He has armside run and sink on his 92-96 mph two-seam SINKER (a 70 grade on the 20-80 scouting scale for both heaters), and good spin and shape on his 79-83 mph 12-to-6 downer CURVEBALL (a 60 pitch or better), on which he can vary the shape and speed. He also has a deceptive 87-91 mph CHANGEUP (getting a 55 grade) with good sink that he sells well. It has good separation in velocity from his heater.

He picked up a 88-91 mph SLIDER while with the Blue Jays. And, in his first start of 2016, that slider average 92 mph and was completely unhittable. (April 2016)

2016 Season Pitch Usage: 4-seam Fastball: 29% of the time; Sinker 30.3% of the time; Change 11.1%; Slider 21%; and Curve 8.5% of the time.

Noah locates his fastball on all four quadrants of the strike zone. And that heater explodes out of his hand.

His control grades an above-average 60. But his command within the strike zone could improve.

Syndergaard's slider doesn't give the hitter a chance. He holds the baseball a little differently than the conventional slider—it's more balanced in the middle of his hand.

"I was watching 'Bull Durham' the other day. They are teaching Nuke LaLoosh the grip, 'hold it like an egg,' and that is something I learned (late in 2015)," Noah said, while demonstrating how he holds his slider. "I used to grip the crap out of the ball (in 2015).

"I loosened the grip and I am throwing even harder than I did last year. I have that finger right up against the seam and rotate the ball on its axis," Noah explained. "Thumb on the side allows you to get your fingers on top, and then right at the last second it rolls off your fingers. I barely hold it.

"Just trust the grip and throw it just like my fastball. I try not to think too much."

Syndergaard uses his height to get good downhill plane on his fastball and it rides in on righthanders, consistently inducing weak contact.

His big frame gives him an imposing presence on the bump. His delivery is clean. And he has very good body control for his size, which leads to quality command and control.

His delivery may not be textbook—he opens early, costing him deception—but he's strong enough to repeat his mechanics and throw strikes.

Syndergaard has refined his pitch sequencing and learned to keep his fastball down in the zone. He has become the #2 starter in the Major Leagues that scouts projected him to become.

"Stuff-wise he's probably second to nobody but he has a lot to learn mentally," Las Vegas manager Wally Backman said near the end of the 2014 season. "If he has the right guy behind the plate, he's going to be pretty good, because the catcher really runs the game for him right now. He needs to learn to be able to call his own pitches in certain situations at the minor league level, for sure, and trust the stuff that he has. For me, it's all about consistency for him and really being able to command the fastball."

Backman acknowledged Syndergaard can become too reliant on his fastball, while Plawecki noted he'd like to see Syndergaard speed up his tempo.

"And I think toward the end we got better with that," Plawecki said. "That's not something you can change overnight, just to go up there and be quick on the mound. It's a matter of doing it in the game outing after outing. And I think we got a lot better with that." (Adam Rubin - Baseball America - 12/05/14)

Noah began working on being more of a pitcher, not just a thrower. He says Frank Viola really helped him in 2014. He now uses his whole arsenal, having improved his secondary pitches the second half of the season.

Mets pitching coach Dan Warthen says that Syndergaard "asks more questions than anybody has ever asked me."

"'Why would you do this? Why did you do that?' I'm very excited for him."

But, there is one concern: Hitters can get a good look at his pitches.

"The hitters get a good look," Warthen said. "It's so methodical, almost statuesque. You're up, you show, you throw."

In 2015, Syndergaard set the regular-season record for average fastball velocity per 100 innings pitched (97.1 mph).



April 20, 2017: Even on nights when the dribblers squeeze just inside the line, when the bloopers drop in between the mist and the occasional extra-base hit, Noah Syndergaard makes sure each at-bat against him remains a daunting chore

. Syndergaard wasn't at his best in a 6-4 loss to the Phillies. His first defeat of 2017 came courtesy of a season-high five runs against, including a season-high three of which were earned.

Even in defeat, Syndergaard continued to showcase a combination of power and command rarely seen in Major League history

. The positives come in the peripherals, and they're phenomenal. Syndergaard stepped on the mound and 10 more strikeouts followed. Once again, no walks were allowed. Once again, no pitches left the yard.

That made it four starts in 2017 for Syndergaard without allowing a walk or a homer

. That's not just the best mark in the bigs, it's tied for the best streak to start a season in Major League history, matching Adam Wainwright's streak in 2013. Wainwright recorded 28 strikeouts over 29 innings during his run. Syndergaard has struck out 30 over 26 innings.

"To put up those kind of numbers is truly remarkable," Mets manager Terry Collins said

. "It's unbelievable."

Syndergaard's 26 consecutive innings to start the season without allowing a walk is a Mets franchise record, and it is the 12th-longest streak in Major League history

. His 26 innings to start the season without allowing a walk or homer is the fourth-longest stretch, behind only Babe Adams in 1920, Red Lucas in '33 and Wainwright.

None of this is meant to color Syndergaard as unbeatable

. It merely means he rarely beats himself. Even when he's not at his best, Syndergaard makes it tough on the opposition

"I give a lot of the credit to the work with [pitching coach] Dan [Warthen]," Syndergaard said

. "It makes pitching as easy as it can possibly be, because it's really tough sometimes." (Trezza - mlb.com)


Noah entered the 2017 season with a career record of 23-16 and a 2.89 ERA. He had allowed 30 home runs and 294 hits in 333 innings with 384 strike outs.
Fielding
May 12, 2016: Syndergaard became the first MLB pitcher in 9 years to hit 2 home runs in a game.

2016 Season: Noah allowed more stolen bases, 48, than any other pitcher in all of MLB. The 2nd-worst was the Brewers' Jimmy Nelson, who allowed 18 less base thefts, with 30.
Career Injury Report
Late 2010: Noah's elbow was bothering him a little, so the Blue Jays shut him down as a precaution.

March 2013: A pulled lat muscle/abdominal strain hindered Syndergaard during most of Spring Training. He was healed up by the start of the season, though.

May 25-June 5, 2014: Noah was on the D.L. with a flexor pronator strain in his right elbow.

The injury can be a precursor to Tommy John surgery, but the Mets portrayed the injury as "mild" and not overly concerning.

May 27, 2014: A feeling of relief washed over Sandy Alderson when news of Noah's MRI results flicked onto the Mets general manager's cell phone screen. Syndergaard had no structural damage in his right arm, and he should be able to return to the mound soon.

Syndergaard has no flexor pronator ligament damage, though the Mets will continue to be cautious with him. Doctors recommended a regimen of shoulder stretching exercises to fortify his forearm.

"Everything appears to be OK," Alderson said. "Hopefully, this is a short-term disablement for him over the next few days."

June 9-16, 2014: Syndergaard was back on the D.L., this time with left shoulder soreness.