TREVOR J. MAY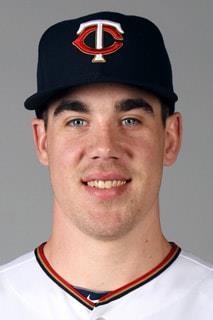 Nickname:
N/A
Position:
RHP
Home:
N/A
Team:
TWINS
Height:
6' 5"
Bats:
R
Weight:
240
Throws:
R
DOB:
9/23/1989
Agent:
ISE Baseball
Uniform #:
65
Birth City:
Longview, WA
Draft:
Phillies #4 - 2008 - Out of high school (WA)
| YR | LEA | TEAM | SAL(K) | G | IP | H | SO | BB | GS | CG | SHO | SV | W | L | OBA | ERA |
| --- | --- | --- | --- | --- | --- | --- | --- | --- | --- | --- | --- | --- | --- | --- | --- | --- |
| 2008 | GCL | GCL-Phillies | | 5 | 12 | 11 | 11 | 7 | 2 | 0 | 0 | 0 | 1 | 1 | 0.256 | 3.75 |
| 2009 | SAL | LAKEWOOD | | 15 | 77.1 | 58 | 95 | 43 | 15 | 0 | 0 | 0 | 4 | 1 | | 2.56 |
| 2010 | SAL | LAKEWOOD | | 11 | 65 | 51 | 92 | 20 | 11 | 0 | 0 | 0 | 7 | 3 | | 2.91 |
| 2010 | FSL | CLEARWATER | | 16 | 70 | 53 | 90 | 61 | 14 | 0 | 0 | 0 | 5 | 5 | | 5.01 |
| 2011 | FSL | CLEARWATER | | 26 | 144.1 | 120 | 194 | 65 | 26 | 3 | 2 | 0 | 10 | 8 | 0.21 | 3.80 |
| 2012 | EL | READING | | 28 | 149.2 | 138 | 151 | 78 | 28 | 0 | 0 | 0 | 9 | 13 | | 4.87 |
| 2013 | EL | NEW BRITAIN | | 27 | 151.2 | 149 | 159 | 67 | 27 | 2 | 2 | 0 | 9 | 9 | | 4.51 |
| 2014 | IL | ROCHESTER | | 18 | 98.1 | 75 | 94 | 39 | 18 | 1 | 1 | 0 | 8 | 6 | | 2.84 |
| 2014 | AL | TWINS | | 10 | 45.2 | 59 | 44 | 22 | 9 | 0 | 0 | 0 | 3 | 6 | 0.314 | 7.88 |
| 2015 | AL | TWINS | | 48 | 114.2 | 127 | 110 | 26 | 16 | 0 | 0 | 0 | 8 | 9 | 0.279 | 4.00 |
| 2016 | IL | ROCHESTER | | 4 | 3.2 | 1 | 6 | 1 | 0 | 0 | 0 | 1 | 0 | 1 | | 2.45 |
| 2016 | AL | TWINS | $545.00 | 44 | 42.2 | 39 | 60 | 17 | 0 | 0 | 0 | 0 | 2 | 2 | 0.232 | 5.27 |
| 2017 | - | DL - Tommy John | $555.00 | | | | | | | | | | | | | |
| 2018 | IL | ROCHESTER | | 13 | 27 | 24 | 25 | 16 | 4 | 0 | 0 | 2 | 0 | 4 | | 4.00 |
| 2018 | FSL | FORT MYERS | | 1 | 3 | 1 | 5 | 3 | 1 | 0 | 0 | 0 | 0 | 0 | | 0.00 |
| 2018 | AL | TWINS | | 24 | 25.1 | 21 | 36 | 5 | 1 | 0 | 0 | 3 | 4 | 1 | 0.221 | 3.20 |
| 2019 | AL | TWINS | $900.00 | 65 | 64.1 | 43 | 79 | 26 | 0 | 0 | 0 | 2 | 5 | 3 | 0.184 | 2.94 |
Personal
In 2008, May got drafted by the Phillies (see Transactions below).

In 2009, Baseball America rated Trevor as the 28th-best prospect in the Phillies organization.

But in 2010 they moved May all the way up to 5th-best prospect in the Phillies farm system. And he was back at #5 in the winter before 2011 spring training. Then, in the winter before 2012 spring camps opened, they had Trevor as the #1 prospect in the Phillies organization. After coming to the Twins organization, May was their 8th-best prospect in the spring of 2014, and #9 in the offseason before 2015 Spring Training.

In 2011, May was the Phillies organization's Minor League Pitcher of the Year. He went 10-8 with a 3.63 ERA in 27 games for Class A Clearwater, striking out 208 over 151 innings. He became the first Phillies Minor Leaguer to reach at least 180 strikeouts in a season since Mark Davis did so for Reading in 1980. In 2011, Trevor led the minors in strikeouts per nine innings (12.4) and the FSL with 208 whiffs.

In 2012, May led the Eastern League with 151 strikeouts but also 78 walks.

Trevor wears a size 16 shoe.

MUSIC MAKER

In his free time, May is an amateur producer of house music. He has been known to spend hours on end at his iMac composing trippy concoctions, some of which he uploads to his SoundCloud channel for fans of his music and/or his pitching.

"This offseason I sat on the computer for nine straight hours," he says. "I'd work out and say, 'What am I going to do for the rest of the day?' And nine hours later, I had a song. I just ordered Jimmy Johns and had them bring me a sandwich at some point, and I didn't realize it was 11 o'clock at night."

He laughs at his youthful enthusiasm. "It kind of snowballs," he says. "You get all excited and keep going."

In the first two weeks of spring training, he was productive enough in between bullpens and pitching fielding practice to record the basis of a song he calls "Bob and Weave." He posted a link for his Twitter followers late one night. Of the half dozen or so songs he has uploaded, the most popular has generated about 500 listens. May is teaching himself to play the piano to help streamline the recording process; he used to play the trombone but gave that up years ago.

"There's only one band, Sublime, that has trombone," May says. "I used to tell people I wanted to be in a Sublime cover band. That's why I used to play trombone."

It's important to note here that the 6-foot-5 May takes his primary craft seriously. Coming off a solid stint at the Arizona Fall League, this would-be Fatboy Slim has worked hard to get in the best shape of his career as he takes aim at the final spot in the Twins' rotation.

"I think baseball is going to get me known a little more than music," says May. "I love being a baseball player and have passion. Music is just a cool thing to do."

Not to mention a great outlet for his creativity. During the 2013 season at Double-A New Britain, May brought some of his mixes into the Rock Cats clubhouse and played them for his teammates.

"We had one we listened to every day before games," May says. "One guy really liked it. Everybody else was like, 'Meh.' I'd just play it for him."

That was outfielder Jordan Parraz, who used May's creation for a walkup song.

Back home in Kelso, Wash., and even up Interstate 5 in Seattle, May is gradually building his reputation in the music realm.

"I have some people in Seattle that know me just as a guy that makes music," May says. "I have a few projects in the works I've been showing to close friends, but right now it's baseball time."

Now that the games have arrived, May isn't pulling all-nighters at his keyboard. He isn't forgetting to eat while bouncing from project to project, or the dozen or more unfinished songs at his fingertips. That doesn't mean the ideas aren't still popping into his head at all hours. He finds himself inspired by such acclaimed producers as Deorro, marveling at the way he uses technology to morph his voice into danceable sounds.

"You can literally record your voice making a sound, and the low quality of the sound is actually what you're looking for sometimes," he says. "You can manipulate it and do your main sound."

Maybe someday—preferably once he reaches the majors—May will be able to create an entire soundtrack for an increasingly diverse Twins roster.

"It's fun. I enjoy it," he says. "I'm really big on being good at the things I like to do." (Mike Berardino - 3/6/2014)

In the offseason, May is DJ MAyZR. In his spare time, May is a budding DJ, who releases tracks to his fans via social media, including his latest, "Balvenie," which was released for $1 with the proceeds going to the Twins Community Fund, the club's largest charity organization. May describes the track as a "house tune built to invoke groovy, techno vibes."

May estimated it took him roughly 30-40 hours to develop the song, which he finished roughly two weeks before he left for Spring Training 2016. He used the popular music production program, Abelton, on his MacBook computer, to sample sounds. He wrote, composed and edited the track himself. After four years of learning how to develop his own music, he finally felt comfortable enough to partner his work with the community fund, which raises money for youth baseball programs in Minnesota.

"Usually I just release them for free, but to be honest, that wasn't really doing anything, and I put a lot of effort into this one," May said. "I've thrown around the idea for releasing songs for charity, and the Twins Community Fund is a great way to do it. I really hadn't gotten a song where I felt comfortable releasing it to the public in that capacity, and this was the first one."

May first got into making his own tracks during the 2011 offseason while a top prospect in the Phillies' organization. He said it took him about two years before he really knew what he was doing, and that he was self-taught, learning how to do it by watching YouTube videos. He uses a piece of equipment called a push, which is essentially a controller that features 64 buttons and various knobs that allows him to enter different sounds into the track.

"The way you go through it is there are devices that create virtual instruments and it's completely customizable," May said. "I'm just now to the point where I can think of something and get it in there." He hopes to make a few more tracks and potentially release a three-song EP, but it depends on how much time he has this season. To promote his latest release, he uses his Twitter account to reach his 12,000 followers. He hosted a live chat on Periscope too, talking about everything from his song, his love for his cat, LC, and baseball.

May said another idea of his is to host a live show at a venue in the Twin Cities during the season with the money raised going to charity. He has done live shows before, but never with an affiliation with the Twins. He also hopes to eventually make a song that goes mainstream and is picked up by a label, but for now, his main focus is on the upcoming baseball season.

"One of my goals is to have a song signed by a label," May said. "It's on my bucket list. I just don't know when, especially because when I have time for this is the offseason, but now it's baseball season. It's fun. If I have an idea, I can put it down, but I'm not worried about releasing anything during the season. And if I do, it'll be to benefit something in the Twin Cities." (Bollinger - MLB.com - 3/11/2016)

February 2017: Trevor May has joined Luminosity as an Official Brand Ambassador. May has already been streaming on Twitch and collected over 4,500 followers. He's been playing a lot of Overwatch. (Esports Insider - Sam Cooke - February 21, 2017)

FORTNITE

If you know anything about Trevor May, you know he likes video games. He streams himself playing the video games and you can watch him online. Anyway, he recently spoke on an Esports panel at some convention and said (among other things) that there should be traditional training leagues for professional video games like there are in professional sports. (Maija Varda@KirbysLeftEye - Jan 16, 2018)

Trevor, who said in the offseason he puts in 16-hour days gaming, teamed up with professional gamers to play Fortnite live in front of fans. (Fortnite is the popular game that has taken over social media in 2018.) And when asked about participating in the event May said it was very similar to pitching when it came to nerves.

"It felt very similar," May said. "I was just having a good time. I was super anxious to get going and wanted to make sure everything worked. My time in DJing, I've had enough technical difficulties where turntables wouldn't work and the audio isn't picking up. So we got it going pretty good and they figured it out. I was flustered at the operations table a little bit, which was really funny. He thought I was mad at him. But other than that, it went pretty smoothly. All of our stuff worked, we figured all of the technical difficulties out really quickly. I would call it a win." Now we know where to find May when the baseball season is over. (Kleinschmidt - mlb.com - 9/10/2018).

Dec 10, 2018: The Twins are auctioning off a private tour of Target Field and the opportunity to play Fortnite with pitcher Trevor May as part of the 2018 Winter Meetings Charity Auction. This year's auction will support the Jackie Robinson Foundation and the Negro Leagues Museum, two important institutions that educate future generations of young people through honoring significant moments and individuals of baseball's past.

The auction is live on MLB.com/wintermeetingsauction. Items include special baseball experiences, including meetings with some of the game's biggest stars, along with unique items donated by MLB and the 30 clubs. Bidding for both packages being offered by the Twins began at $500. The winning bidder for the Fortnite package will receive the opportunity to visit Target Field to play the video game for an hour with May, who has been an avid streamer of video games on Twitch for Luminosity Gaming and founded the startup Esports Lab.

The package also includes the opportunity to watch batting practice from the field and four tickets to the day's game. May and the Twins previously hosted "FortDay" at Target Field in September, during which he teamed up with professional gamers for a live gaming session in front of fans. The winner of the Target Field tour package can bring up to 40 guests on a two-hour tour of Target Field with team curator Clyde Doepner on a non-gameday. (DH Park - MLB.com - Dec 10, 2018)

Ever notice how Trevor tweets out some variant of "Go Twins!" after every Minnesota victory?

As it turns out, that's a phrase that the Twins reliever encourages around not only the baseball world, but also in the online gaming world, where May, an avid Esports streamer, says it serves as an identifier of sorts for him from fellow streamers whenever he enters a gaming lobby.

"God forbid I ever play for another team, I guess, at this point," May said. "I think that it'll follow me wherever I go, which is a cool thing. It's kind of how gaming and streaming culture is. It's creating inside jokes and memes and just stuff to have fun with that kind of connect things that aren't necessarily game-related into the gaming world."

May, who has more than 131,000 followers on popular streaming service Twitch and typically travels with a gaming laptop and peripherals in a hard case, has always been just as active—if not more—in the gaming community as he has in the baseball world. As the sports and Esports worlds grow closer together, May exists in a quite unique overlap of the communities.

During a Twins' 2019 road trip, he spent a morning at the team hotel in Anaheim filming an on-location segment for the second episode of PlayTime with KittyPlays, an original series by Allied Esports hosted by popular streamer and competitive Esports player Kristen "KittyPlays" Michaela. May was the second professional athlete to be featured on the show, which also brought in Cleveland Browns quarterback Baker Mayfield in its first episode.

May said that the Twins, for their part, have continued to encourage the intersection between sports and Esports to a greater extent. As an example, they hosted a "Fortnite Day" at Target Field in September 2018, in which May and teammate Mitch Garver hosted a pair of professional gamers for a live streaming session and fielded fan questions on the field before a Sunday afternoon game against the Royals.

"It's a pivotal moment," Michaela said. "I feel like it's just this giant wave that's washing over pop culture and society and I think we're all really privileged to see the beginning of it all."

"The owners of the Minnesota Twins, too, are pretty business-savvy as well, as you can imagine," May said. "It just kind of all makes sense. They're not willing to kind of ignore any trend or any marketing opportunity. There might be other owners that aren't as open to it or as used to hearing about it, so that's also nice.

"But yeah, the Twins have become a little bit of a positive meme in gaming—at least in the Fortnite scene—and that's good for everyone involved." (Park - mlb.com - 5/26/2019)

May moonlights as an eSports streamer with more than 137,000 followers on the popular streaming service Twitch.tv, Also an entrepreneur in the field, he has the username "iamtrevormay."

During the coronavirus pandemic of 2020, it was not exactly easy for Major Leaguers -- or baseball players at any level -- to regularly throw off a mound or maintain their level of readiness for the season. What was it, then, that pitchers can do to make some productive use of their considerable time in self-isolation and still better themselves in some way?

Trevor had a detailed answer to that question in a video titled "5 things you can do at home to become a better pitcher!" on his baseball-oriented YouTube channel

. Though he originally posted the video toward the end of the offseason, in January 2020, May recently bumped it on his Twitter feed as a means to help younger pitchers establish and maintain a routine without taxing their arms during these unusual times.

"This video is intended to give you things that you don't necessarily have to be in the middle of a season to do," May said in the video

. "Being in shape, baseball shape, throwing shape, takes a little bit of time. These are things you can do now ... to continue to hone your skills without having to take a huge toll on your body."

(1) Writing goals and affirmations; (2) meditation; (3) stretching; (4) arm care; and (5) dry work. He then walked through all five in great detail with explanations and visual cues for the drills, which can all be done at home with the aid of inexpensive equipment.

Alongside this guide to pitcher upkeep, Trevor's baseball channel also features a video on meditation in addition to other guides on intent, his pitch selections and design, rest and recovery, mental toughness, focus, and his opinions on other topics relevant to the game. (Park - mlb.com - 4/3/2020)





TRANSACTIONS
June 2008: May was scouted and signed by Phillies' scout Dave Ryles, The team drafted Trevor in the 4th round, out of Kelso High School in Kelso, Washington. He signed for $375,000 moments before the August deadline.

December 6, 2012: The Twins sent OF Ben Revere to the Phillies, acquiring May and RHP Vance Worley.

January 12, 2018: The Twins and May avoided arbitration, agreeing to a one-year deal for $650,000.

January 11, 2019: May and the Twins avoided arbitration, agreeing to a one-year deal for $900,000.

January 10, 2020: May and the Twins avoided arbitration, agreeing to a one-year deal.
Pitching
May is a very big man—a righthanded power pitcher with a lively, 92-97 mph 4-seam FASTBALL with good arm-side run; good feel for spinning a fine 77-80 mph power CURVEBALL with sharp downer break; a tight 85-87 mph SLIDER could be sharper; and a plus 85-88 mph CHANGEUP that fades when he keeps it low in the zone. (Spring, 2018)

May has the ability to miss bats. He has a strong body and impressive physical presence on the mound. But, he still struggles at times with a loss of focus and fastball command.

In 2013 and 2014, Trevor had the best change in the Twins' organization.

2016 Season Pitch Usage: 4-seam Fastball: 61.1% of the time; Sinker .2% of the time; Change 11.1%; Slider 8.8%; and Curve 18.8% of the time.

2018 Season Pitch Usage: 4-seam Fastball 59.2% of the time, his Change 10.7%; Slider 10.7%; and Curve 19.4% of the time. Average velocity: 4-seam 94.4 mph, Change 86.1, Slider 87.5, and Curve 78.4 mph.

2019 Season Pitch Usage: 4-seam Fastball 62.9% of the time, his Change 9.9%; Slider 11.1%; and Curve 16% of the time. Average velocity: 4-seam 96 mph, Change 87.9, Slider 84.3, and Curve 80.3 mph.

2015 Improvements: The two-seamer is new for May, as he tinkered with it in 2014, but has a good enough feel for it now that he can mix it in with his four-seamer.
In 2009 spring training, the Phillies began trying to smooth out the high-maintenance delivery he used when he signed. And by the 2011 season he was able to repeat his delivery, which improved his control. Trevor comes at hitters from a three-quarters arm slot. He generates a very good downhill plane.

May has worked hard to keep his mechanics together. His max-effort delivery can make executing his off-speed pitches a challenge. Most scouts see his future in the bullpen, where his fastball velocity would play up, his command would be less of an issue and he could keep hitters guessing with a varied arsenal.

Though he improved his control and command, the question with May remains whether he can throw enough quality strikes and get ahead against more advanced competition. He got into too many deep counts against FSL hitters, finishing third in the league in walks in 2011. And then he led the EL in walks in 2012.

In 2012, Phillies minor league pitching instructors tinkered with the positioning of May's hands and the speed and tempo of his delivery.

"He fought it a little at first, but ultimately was very receptive," Phillies farm director Joe Jordan said.

By the 2014 season, improved focus and concentration enabled Trevor to drop his walk rate to a respectable mark.

Trevor works both sides of the plate very effectively.

May throws from a good downhill plane and has some deception that makes his fastball look faster.

He holds his velocity until deep in games.

Scouts compare May to Chris Carpenter because of his size and swing-and-miss stuff. Trevor has the proven ability to miss bats. Command is the problem.

High pitch counts are a common refrain for May, who falls out of attack mode too frequently and sometimes labors to finish batters. He did a much better job of working in to righthanders in 2014, producing more weak contact on the ground.

Trevor could be a durable innings-eater if he learns to command the ball and lower his pitch counts. But he gives up a lot of home runs. At least he did before 2014, when he allowed just 4 homers in 18 starts.

But May is still a pronounced flyball pitcher.

New pitch for 2015: The two-seamer is new for May, as he tinkered with it last year, but has a good enough feel for it now that he can mix it in with his four-seamer.

As of the start of the 2020 season, May has a career record of 22-21 with 4.49 ERA, having allowed 37 home runs and 289 hits in 292 innings.



April 3, 3030: With facilities shut down and pitchers scattered as the baseball world awaits some resolution to the coronavirus pandemic, it's not exactly easy for Major Leaguers -- or baseball players at any level -- to regularly throw off a mound or maintain their level of readiness for the season. What is it, then, that pitchers can do to make some productive use of their considerable time in self-isolation and still better themselves in some way?

Twins reliever Trevor May has a detailed answer to that question in a video titled "5 things you can do at home to become a better pitcher!" on his baseball-oriented YouTube channel

. Though he originally posted the video toward the end of the offseason, in January, May recently bumped it on his Twitter feed as a means to help younger pitchers establish and maintain a routine without taxing their arms during these unusual times.

"This video is intended to give you things that you don't necessarily have to be in the middle of a season to do," May said in the video

. "Being in shape, baseball shape, throwing shape, takes a little bit of time. These are things you can do now ... to continue to hone your skills without having to take a huge toll on your body."

In his 28-minute video, May talks viewers through five different steps involved in maintaining the mental and physical sides of his game: writing goals and affirmations, meditation, stretching, arm care and dry work

. He proceeds to walk through all five in great detail with explanations and visual cues for the drills, which can all be done at home with the aid of inexpensive equipment.

He starts off by discussing his methods of setting both smaller (micro) and larger (macro) goals, such as his stated desire to stay healthy for the entire 2020 season, and tells viewers to write those goals in a notebook every day

. He also offers up a video guide to daily meditation elsewhere on his YouTube channel.

"Creating this skill of self-awareness, being able to be inside the moment, will benefit you on the baseball field more than you could ever know," May said

.

He then steps through his stretching routine, which is oriented around flexibility in his throwing arm and in his lower half, which is an area of greater need for his physique

. He moves on to show his use of wrist weights and resistance bands as part of his arm care, then uses a towel, a lighter ball and a foam balance pad for his "dry work," in which he simulates and works on parts of his throwing motion without introducing real stress to his shoulder.

"Have a reason for the routine that you set forth for yourself," May said

. "Learn something about yourself. That could be problem areas, things that feel tight all the time, a place you get sore all the time, something that's maybe a compensation or an injury that you've had in the past. Try to use all that information to design a daily routine for yourself."

Don't just take his word for it; look at May's results from 2019 to see how much he has benefited from these practices

. In addition to topping out at 99.8 mph with his fastball, the 30-year-old posted the best numbers of his career last year in his first full season back since recovering from Tommy John surgery, with a 2.94 ERA and 79 strikeouts in 64 1/3 innings as one of the late-inning anchors of a solid bullpen alongside Taylor Rogers, Tyler Duffey and Sergio Romo.

Though May has been considerably more active during this hiatus on the gaming side with regular streams on Twitch and video content on his game-oriented YouTube channel, he also has plenty of resources on the baseball side for perusal from fans more interested in the details and nuances of his workouts and mindset

. Alongside this guide to pitcher upkeep, his baseball channel also features the aforementioned video on meditation in addition to other guides on intent, his pitch selections and design, rest and recovery, mental toughness, focus and his opinions on other topics relevant to the game. (DH Park - MLB.com - April 3, 2020)
Fielding
Trevor needs to work at holding runners on base better.
Career Injury Report
September 2013: May was sidelined for 11 days with biceps tendinitis.

June 10-July 5, 2016: Trevor was on the D.L. with low back spasms.

August 7-Sept 9, 2016: May was on the D.L. with a lower back strain.

Sept 12, 2016: May was on the DL with lower back strain.

September 19-Oct 3, 2016: After visiting back specialist Dr. Robert Watkins in Southern California, May was diagnosed with a stress fracture in his back. The root of May's back issues was previously undetected, even after a visit to the Mayo Clinic in August. The injury is expected to heal with rest this offseason, and Minnesota manager Paul Molitor said it's a relief to finally know what has plagued May since last season.

March 11, 2017: May was diagnosed with a torn ulnar collateral ligament, general manager Thad Levine announced. May, who was competing for the fifth spot in the rotation, will get a second opinion, but season-ending Tommy John surgery is a probability.

March 22-Nov 6, 2017: Trevor had Tommy John surgery to repair the ulnar collateral ligament in his right elbow and was placed on the 60-day disabled list.

Feb 20-June 7, 2018: Trevor was on the DL with recovery from Tommy John surgery.

June 14-July 4, 2018: May was on the DL.